Claim, renew, manage & more
Login
Hero Maestro Insurance
plans offered by insurers
Secure your bike and save up to 75%* on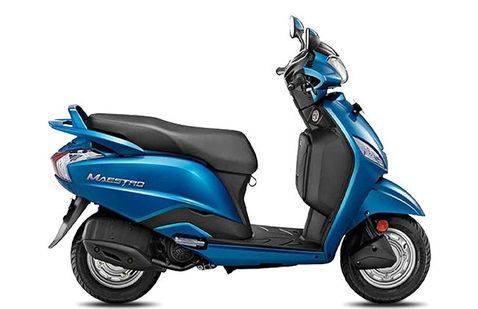 Calculate Your Hero Maestro Insurance
Which city is your bike registered in?
Ahmedabad
Bangalore
Chandigarh
Chennai
Gurgaon
When did you buy your bike?
Have you made a claim in the previous year?
Hero Maestro Insurance Summary
Hero Maestro is a 124.6cc scooter weighing 111 kg. Available in several colours including Pearl Fadeless White. Panther Black, Matte Brown, Matte Vernier Grey, Matte Red, Prismatic Purple, Matte Techno Blue and Stealth Black. This scooter is comfortable, easy to manoeuvre and beautifully designed. It has a sharp and angular body with side panels that are integrated into its frame. The paint is dual tone, with the exterior one colour and the seat and floorboards another. The model also offers decent space in its under-seat storage, external fuel filling ability and two-luggage hooks. The Firm seat and wide footboard make it perfect for using on longer rides as well. Lastly, it has a mileage of 51 kmpl. It is a practical, durable and affordable option.

Hero Maestro Insurance
To be able to ride a Hero Maestro, it is compulsory for the owner of the bike to have at least a third party insurance without which one can be punished with a fine of Rs. 2,000 and/or imprisoned for up to 3 months. This type of policy covers damages of the third party including bodily injuries, death or third party property damage. This does not, however, include the coverage of the policy holder's two-wheeler. For the own-damage cover, you can go for either a standalone own-damage insurance policy or a comprehensive insurance policy.
Types of Insurance Cover
According to the coverage provided, there are three types of insurance policies:
Third-Party Insurance Policy: This type of insurance policy deals with damages relating to third party liabilities, third party property damage and death. The coverage of the third party property damage is limited to Rs. 1 lakh.
Standalone Own-Damage Insurance Policy: Standalone own damage Insurance policies are not compulsory but are a sensible choice for every scooter owner. It covers damages related to the policy holder's two-wheeler and gives no coverage for third party liabilities.
Comprehensive Bike Insurance Policy: These policies cover both third party and own-damage liabilities for the two-wheeler owner and are the most hassle-free option to buy.
How to Buy Insurance for Hero Maestro from InsuranceDekho
To get an insurance policy for your Hero Maestro takes seconds and a few simple steps with Insurance Dekho.
Step 1: Visit our website, www.insurancedekho.com
Step 2: Select Bike and provide your bike registration number in the 'Get Your Quote' Section. In case you do not have your bike registration number, you can also provide other details like the make, model or year of registration.
Step 3: Enter your personal details, i.e., name and phone number and the best-suited two-wheeler insurance for you will be visible on your screen.
Step 4: Select the policy that is most suited to your budget and requirements.
Step 5: Make the payment for your selected policy and the policy document will be sent to your registered email ID.
Hero Maestro Variants with Insurance Premium Price
You can refer to the below table for an estimated premium for your Hero Maestro third-party/comprehensive car insurance plan. The premium varies as per the chosen variant of the car. Hero Maestro is available in 1 variants. The premium of an own-damage car insurance cover is decided by the insurance company and depends on multiple factors such as the car's cubic capacity (CC), make, model, variant, fuel type, RTO location & claim history.
Hero Maestro 110cc

109 cc,Petrol
Add-ons For Your Hero Maestro Bike Insurance
To further enhance the coverage offered under your bike insurance policy, you can choose from the below bike add ons by paying additional premium.
Find Right Bike Insurance Quotes by Bikes Body Type
Commuter
Scooter
Sport
Cruiser
Partner Bike Insurance Companies
Hero Maestro Bike Insurance User Reviews
24 Reviews
Why did they insure their bike with InsuranceDekho
Blazing Fast

The ease of selecting the policy of your choice from various insurers along with the list of prices available was fantas...

Sbi General Insurance

By KUSHAL GARG

On:19th May, 2022

BEST IN MY KNOWLEDGE

VERY EASY PROCESS, MINIMUM PREMIUM no risk factors are there ,no need of paper work.Any where any time available, gettin...

Read More

Icici Lombard

By CHANDRATAN CHANDAK

On:6th May, 2022

good experience

good and fast service. using it first time and got the best deal in the market among all other online insurance purchase...

Kotak Mahindra General Insurance Limited

By ADITYA SAHU

On:6th March, 2022

Best Insurance Website

Insurance dekho is a good website their after sale support is excellent. hope to have a continuing services from them. T...

Digit General Insurance Limited

By Vivek jain

On:24th December, 2021

Good

Good experience ...................

Kotak Mahindra General Insurance Limited

By ASHWINI PATIL

On:23rd October, 2021

Smooth buying process

InsuranceDekho offers a smooth buying process. At the portal, I was able to buy Raheja QBE policy for my Hero Maestro Ed...

Read More

Raheja Qbe

By Ojasvi Rao

On:14th September, 2021

Smooth claim settlement process

InsuranceDekho helped me make a claim under my IFFCO Tokio bike insurance policy which I bought for my Hero Maestro Edge...

Read More

Iffco Tokio

By Amitesh Bakshi

On:14th September, 2021

Quick quote generation

Generating free insurance quotes on InsuranceDekho website for my Hero Maestro Edge 125 was quite rapid and hassle free....

Read More

Iffco Tokio

By Preeti Malhotra

On:7th September, 2021

Exceptional visual features

On InsuranceDekho, the visual features displayed are exceptional. The icons, tabs, and images are suitable and I was abl...

Read More

Tata Aig

By Madhu Suman

On:9th August, 2021

Great experience

The services provided by InsuranceDekho were satisfactory. It was good to have a deal with you. Looking for best policy ...

Kotak Mahindra General Insurance Limited

By VIJAY KUMAR GUPTA

On:5th June, 2021
Write a Review
Hero Maestro Bike Insurance FAQs
1

Which documents should I carry while riding my Hero Maestro bike?

A rider should carry the below mentioned documents at the time of riding their Hero Maestro bike on the public roads in India:

A valid driving license
Registration Certificate
Active Bike insurance Policy be it photocopy/softcopy/printout
Pollution Under Control(PUC) Certificate

As a bike rider, ensure that all the necessary documents that you're carrying should be up to date. These documents should not be expired. In case, you hold any physical copies then protect them from getting damaged. Moreover, it is always advisable to keep a soft copy of all the documents alongside the hard copies.

2

Is it necessary to buy a two wheeler insurance policy for my second hand Hero Maestro bike?

Yes, according to the Indian Motor Tariff Act, it is significant to buy a two wheeler insurance plan for both new as well as second hand Hero Maestro bikes. You can purchase a two wheeler insurance policy online for your Hero Maestro bike in two ways i.e either you can buy directly from the official website of the insurance company or you can purchase it from InsuranceDekho. At InsuranceDekho, you can make comparisons of various different policies offered by different insurance companies and select the best policy as per your individual requirement and budget.

3

Why is it important to declare the correct Insured Declared Value?

Insured Declared Value or IDV of your Hero Maestro bike works as a base when we talk about calculation of your bike insurance policy's cost. If a policyholder declares a higher value, then the bike insurance policy cost will also increase. While, in case, a policyholder sets a lower Insured Declared Value, if there is total loss, then they may receive a lower amount in such a case. Therefore, it is significant to set a correct Insured Declared Value at the time of purchasing a two wheeler insurance plan.

4

What are the changes that I can make in my Hero Maestro bike insurance policy?

A policyholder can make the below mentioned changes in their two-wheeler insurance policy:

You can make changes to the details related to your bike like registration number etc.
You can make changes to your personal details such as address, contact information, name, etc.
Select a different coverage option
Make changes to include add on covers in the bike insurance plan

It is recommended to fill in all the details correctly before buying a two-wheeler insurance policy so that you are not required to make a lot of changes after buying the insurance plan.

5

What all factors will affect my Hero Maestro bike insurance premium quote at the time of purchasing two wheeler insurance online?

Given below are the list of factors that will have an impact on your Hero Maestro bike insurance premium quote:

Bike's Make
Bike's Model and Variant
Bike's Age
Insured Declared Value (IDV)
Claim history
Type of coverage
Anti-theft devices
Number of add-ons
Deductibles

6

Why should I compare different insurance policies online before buying an insurance plan for my Hero Maestro bike?

A comparison of two-wheeler insurance plans before purchasing helps an individual in understanding all the different options available in the market. Once, a policyholder is aware of their needs and budget, then they are capable enough of making a well-informed decision. They should not only compare different policies offered by different insurance providers but also compare different policies provided by the same insurance company. A policyholder should compare different insurance policies in order to avail the following benefits:

Get an ideal bike insurance policy
Get better services
Get sufficient coverage at a lower premium
Get enhanced coverage alongside various add-on options
Helps the policyholder in making a well-informed decision

7

Is there a limit on the number of add-ons I can buy alongside my Hero Maestro bike insurance policy?

A policyholder can buy any number of add-on covers as there is no limitation on it. However, it is advisable to purchase only those additional covers that meet your needs as it would assist you to keep the insurance premium for your Hero Maestro bike insurance policy from rising, due to the fact that add-ons increase the premium amount.

8

What happens when I renew my Hero Maestro bike insurance policy in time?

You can avail the following benefits if you renew your Hero Maestro bike insurance policy on time:

Your Hero Maestro bike remains insured and protected
Your Hero Maestro bike insurance policy stays active
You are not required to face any bike inspection again
In case no claims are raised by you in the previous policy tenure, you are eligible for no claim bonus
Charges related to a break in policy are not levied