Claim, renew, manage & more
Login
Senior Citizen Term Insurance Plans
If you are over the age of 50, you can buy a term insurance policy to ensure that your loved ones' futures are secured, as the nominee receives a lump sum payment known as the death benefit in the event of your death.You take on the responsibility of protecting your loved ones from economic disaster by providing them with a good insurance policy.
Best Term Life Insurance Plans For Senior Citizens
| | |
| --- | --- |
| Plan name | Sum Assured |
| Aegon Life iTerm plan | Rs. 10 lakh- no upper limit |
| Canara HSBC eSmart Plan | Rs. 25 lakh-no upper limit |
| Exide Life My Term | Rs. 25 lakhs- Rs. 25 crores |
| IDBI Senior Citizen Term Insurance | Rs. 5 lakh |
| Kotak Preferred eTerm Insurance | Rs. 25 lakh- no upper limit |
| LIC e-Term Plan | Rs. 25 lakh- no upper limit |
| Max Life Insurance Online Term Plan Plus | Rs. 25 lakh- Rs. 1 crore |

Get Term Plan Coverage of 1 Crore Starting From Just ₹16/Day*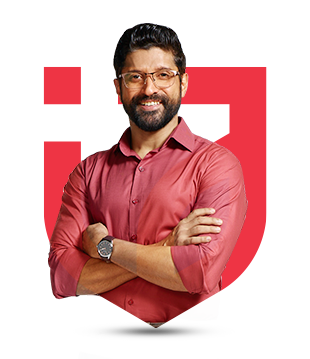 Tax Benefit

Up to 1,50,000**

Claim Support

Everyday 10AM-7PM

45 Lacs+

Happy Customers
*Standard Terms and Conditions Apply.
**Tax benefits are subject to changes in Income Tax Act.
Find
the right term insurance for you
Term Insurance Premium Calculator
Date of Birth
Do you smoke or chew tobacco?
Choose required coverage to secure your family's future
Disclaimer :

1. Premium has been calculated for coverage till 60 years

2. Eligibility depends on income, occupation and educational qualification
Senior Citizen Term Insurance Plans
Term insurance is a policy that is designed to provide your loved ones with complete protection. The policy will also provide you peace of mind by ensuring that your elderly parents are well taken care of in the future. It is essential for senior citizens to purchase term insurance. Life today is full of roles and responsibilities, yet it is also unpredictable due to its fast pace. It is always a good idea to have a backup plan for all of your requirements and responsibilities in today's environment. Term life insurance for seniors is one such tool which can help you in guaranteeing that your loved ones are cared for properly even if you are not present.
Human Life Value/Coverage Calculator
Why Should Senior Citizens Buy Term Life Insurance?
There are lots of reasons why senior citizens should purchase term life insurance, some of which are given below:
If you are above the age of 50 and have never had a life insurance policy, now is the time to get one.

As an inheritance, you can give your children a large sum of money.

To cover the cost of any property taxes or legal fees that the property you leave behind may face.

If you are not present, the policy provides financial benefits to your spouse, who may be left alone to fend for herself or himself.

If you do not want to burden your loved ones with funeral costs and want to cover them even if you are unable to attend

If you have any debts, the money you get from term life insurance might be used to pay them off.
Features Of Term Insurance For Senior Citizens
| | | |
| --- | --- | --- |
| Plan name | Entry age | Maturity age |
| Aegon Life iTerm plan | 20-65 years | 75 years |
| Canara HSBC eSmart Plan | 18-70 years | 75 years |
| Exide Life My Term | 18-65 years | 75 years |
| IDBI Senior Citizen Term Insurance | 25-60 years | 70 years |
| Kotak Preferred eTerm Insurance | 18-65 years | 75 years |
| LIC e-Term Plan | 18-60 years | 75 years |
| Max Life Insurance Online Term Plan Plus | 18-60 years | 85 years |
Before deciding on insurance, it is always a good idea to be aware of the advantages and disadvantages. There are several aspects of term life insurance for seniors that should be examined before buying a policy from an insurance provider.
According to the insurer, term life insurance for senior citizens is available in a variety of age categories. Some insurers, for example, offer it to people aged 50 to 80, while others may only offer it to people aged 60 to 80.

Premiums, like those for other insurance, are determined by the amount covered and the time period selected.

Many companies examine your health history when deciding whether or not to offer you insurance.
What are the benefits of senior citizens having term insurance?
The following are some of the reasons why you should buy a term insurance policy if you are a senior citizen.
1. Independence for the spouse- Term insurance for senior citizens might offer your spouse complete independence while you are away. It can be used by the spouse as a source of income. If you are a man with a family who is financially dependent on you, things may become difficult for her. As a result, when you are no longer around, term insurance will provide her a sense of respect.
2. You may have children who are dependent on you- Children are often financially dependent on their parents to meet their needs. When you buy term insurance, you provide them the financial flexibility to care for themselves until they start working, which is particularly important when you are not around.
3. Take care of your debt and loans- Consider the situation in which you are the sole earner of the family and have taken out a loan. Due to an unfortunate situation, your family will be responsible for repaying the debt while you are away. Your family members may end up in debt as a result of this situation. With an online term plan, however, family members can pay off the loan with the death benefit they are granted.
Popular Term Insurance Plans for Seniors in India
The following is a list of the best term insurance plans available in India:
1. Aegon Life iTerm Plan
This plan is available for purchase online in a simple and quick manner. The minimum entry age of the policy is 18 years, while the maximum entry age is 65 years. The maximum maturity age of the policy is 80 years. Section 80D of the Income Tax Act of 1961 allows the insured to get tax benefits. The death benefit is paid to the policy beneficiary in the case that the insured passes away. The plan allows for premium payment mode flexibility. Nonsmokers and female insurers will pay a reduced premium under the plan.
2. IDBI Senior Citizen Term Insurance
The IDBI Federal Termsurance Seniors Insurance Plan is a complete life insurance plan for adults over the age of 50. A term plan with an unlimited term is known as a whole life plan. If the Life Insured dies within the first 2 years of the plan, the nominee will receive 125 % premiums paid as a Death Benefit. If the Life Insured lives for two years after the policy is signed and then dies, the entire Sum Assured is paid to the nominee as Death Benefit. This coverage lasts until death, but payments must be paid until the life insured reaches the age of 90.
3. LIC e-Term Plan
LIC e-Term is one of the most well-known term insurance policies of the company, amid a vast range of products. The LIC e-Term plan is a pure insurance policy, meaning it exclusively provides Death Benefit, or the payment of a predetermined sum to the beneficiary in the event of the death of the policyholder. If the policyholder lives to the end of the LIC e-Term plan's term, the beneficiary will not get any Maturity Benefit.The LIC e-Term plan offers comprehensive coverage of varied amounts according to the needs of the candidate.
4. SBI Life Poorna Suraksha Plan
The SBI Life Poorna Suraksha Term Plan is a non-linked, non-participating life insurance plan with Critical Illness cover built in. This plan makes it easier to get through financially difficult times while also providing life insurance and critical illness protection. Furthermore, as you become older, it automatically adjusts your life and critical illness insurance.
5. Max Life Insurance Online Term Plan Plus
This is a complete term life insurance policy for seniors that can be obtained quickly and easily online. There are three different cover options to pick from with the plan. The plan provides financial protection to the covered agent's family in the case of emergency.All three life insurance options provide coverage for the insured for up to 85 years.
Things To Remember About Term Life Insurance For Senior Citizens
With age, the amount of premium generally rises. However, the advantages usually exceed the cost.

The general maximum age for buying a term plan is 60, but this varies every plan. There are now plans specifically designed for senior citizens.

Many insurers demand that you take medical tests. However, for some people, medical history is enough.

With online procedures of today, buying term insurance for senior citizens has never been easier. You can search around for insurance policies to find which one is best for you.After that, you can apply and pay online. The insurer will send you the required documents after the insurance has been authorised.

With the information from various insurance plans, senior citizens are no longer only eligible for term plans, but can also benefit greatly from them. They have spent their lives working really hard for their families, and they deserve to be able to enjoy their retirement.
Types of Term Insurance Plans
Popularly Opted Term Insurance Sum Assured
Term Insurance Companies User Reviews
What users are saying