Claim, renew, manage & more
Login
Term Insurance For Non Working Spouse
The conflicts between a working and non-working spouse are similar to those between Superman and Batman in Justice League. The working spouse is treated as if he or she were Superman. The working spouse is constantly the focus of attention, thanks to the visibility provided by a promising career and the respect given by society to those who earn a good living. A non-working spouse, on the other hand, works in the shadows like Batman and rarely gets credit for completing tasks, let alone going the additional mile.

Get Term Plan Coverage of 1 Crore Starting From Just ₹16/Day*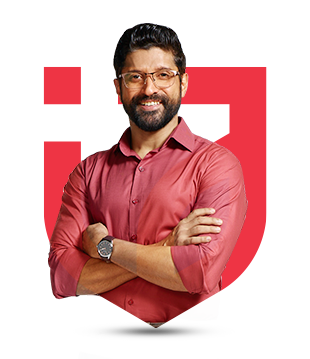 Tax Benefit

Up to 1,50,000**

Claim Support

Everyday 10AM-7PM

45 Lacs+

Happy Customers
*Standard Terms and Conditions Apply.
**Tax benefits are subject to changes in Income Tax Act.
Find
the right term insurance for you
Term Insurance Premium Calculator
Date of Birth
Do you smoke or chew tobacco?
Choose required coverage to secure your family's future
Disclaimer :

1. Premium has been calculated for coverage till 60 years

2. Eligibility depends on income, occupation and educational qualification
Term Life Insurance for Husband and Wife (Spouse Term Insurance Plan)
In a typical Indian family, the man of the house is the one who applies for insurance.This has been the situation in most families because the husband is usually the main earner of the family. However, as the number of working women continues to rise, things are starting to shift.
It is crucial to remember that insurance is not simply for the working members of the family. A term insurance policy for husband and wife is essential in the case of unexpected events. Term insurance for husband and wife is beneficial in light of rising living costs, healthcare costs, and other expenses.
Because a non-working family member cannot apply for term insurance, the working family member is given the option of purchasing a spouse term life insurance plan.
Human Life Value/Coverage Calculator
What Is Spouse Term Life Insurance?
A spouse term life insurance policy, also known as term insurance with spouse policy, is a policy that covers both the policyholder and their spouse. A comprehensive protection plan or policy is what this is referred to as. Both the husband and the wife benefit from a term insurance policy with marital protection. These policies are sold both in person and online, according to the needs of the customers.
A term insurance policy with spouse insurance protects a family in the case that one of the policyholders is unable to protect them. A spouse term life insurance policy shows that both partners in a family are valued and respected. Dismemberment, permanent disability, critical illness coverage, and accidental death are all included in some of the plans.
Key Features Of Spouse Term Insurance Plan
The following are some of the key features of joint term insurance for husband and wife:
The term of the policy extends from 10 to 30 years.
The surviving spouse would be able to choose whether or not to get death payments in installments.
Under this policy, you will be granted a minimum sum assured of Rs. 2.5 lakhs, with no limit on the maximum sum insured.
Premium plans would be available on a yearly, bi-annual, quarterly, and monthly basis.
Benefits Of Spouse Term Life Insurance Plans
The following are some of the benefits of having a joint term insurance policy for husband and wife:
Increased sum assured: Beneficiaries (children) would obtain a much higher sum assured in the case of a joint term insurance for husband and wife. You should choose a plan that pays out to both spouses rather than just one. When the second spouse passes away, the beneficiaries will receive a payment.
Death benefit: If you choose a plan that pays out a death benefit in the case of the working spouse's death, the non-working spouse will also receive a significant death benefit.
Less expensive: In most cases, buying a joint term insurance policy for husband and wife is less expensive than having two individual policies for the two of you.
Waiver of premiums: The waiver of premium feature is another advantage of a spouse term life insurance policy. If one of the two partners dies, the other is eligible for a premium waiver. This means that in order to keep the policy active, the surviving spouse would not be needed to pay premiums.
Conclusion
Term insurance with spouse cover is always a good decision for the sake of your family. However, it is critical that you compare many plans before deciding on one. It is important that you understand your needs and select the best policy for you. You can choose from a variety of plans with different features and benefits, as well as additional protection. Buying spouse term life insurance would enable you and your partner to secure your finances and live a happy life without having to worry about the future.
Types of Term Insurance Plans
Popularly Opted Term Insurance Sum Assured
Term Insurance Companies User Reviews
What users are saying