Claim, renew, manage & more
Login
Investment Plans
Investment plans help you create wealth in the long run. You can invest in different types of investments to yield profitable returns. Additionally, a good investment decision will help you plan for your short-term and long-term financial goals, including child education, purchasing a home or car, and many more.
Read More
Best Investment Plans
Save tax
Get 1 Crore returns by investing ₹7,000/month** Onwards
Plans starting from ₹500/month**
and more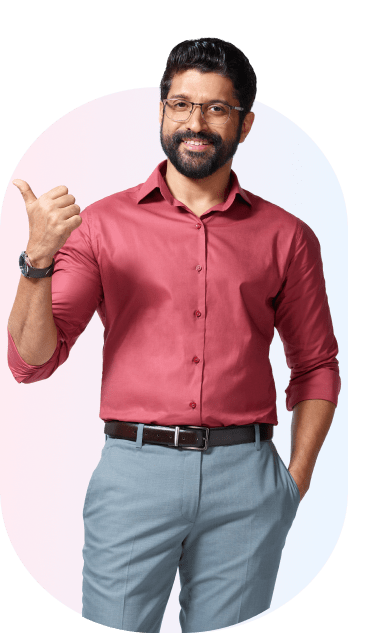 Best Investment Plans In India 2023
Want to reach a Goal amount ? Here is how you can plan your investment
Step 1

Enter your goal amount

Step 2

Select Investment Tenure

Step 3

Click on Calculate
Secure your future with planned investment
Select Investment Duration
*Valid for Lumpsum Payout under Guaranteed Returns Plans
Meaning of Investment Plan
An investment plan refers to an asset that allows you to grow your wealth in the long run. In addition to creating wealth, investments help you secure your future financial goals. For instance, there is constant inflation in the education sector. So, by the time your 5-year-old child turns into an adult, educational fees and costs will be at their peak. Therefore, when you invest in long-term investment plans, you will be able to provide the best quality of education to your children without worrying about fees and other educational expenses.
Types of Investment Plans in India
Investment plans are categorized into three categories that are explained below:
Low-risk Investment
This type of investment plan provides assured returns to investors at minimal or no risk. Investors can yield profitable returns by making long-term investments in low-risk investment plans. Here are some of the low-risk investment options in India:
Public Provident Fund: It is an investment plan backed by the government of India. You can start investing in Public Provident Funds (PPF) by opening an account at any post office. Additionally, you can start your investment at an early age with a minimum amount of Rs. 100. The return on investment is also tax-deductible under Section 80C of the Income Tax Act, 1961.
Post Office Monthly Income Scheme:

If you are looking for an investment plan that provides assured profits with low risk, then this scheme is ideal for you. The Indian government supports the Post Office Monthly Pension Scheme. Additionally, income earned from this investment option is fully taxable as monthly income plans do not provide Tax Deduction at Source (TDS).

Fixed Deposits: These are the traditional and safest investment plans in India. FD interest rates are constant, and they may range between 3% and 9% depending on the term of the investment. As a result, the investors get assured returns on their investments. Fixed deposits provide various other benefits, like loan facilities, different monthly payout options, and special FD interest rates for senior citizens.
Endowment Plans:

It is a type of life insurance that provides dual benefits to the policyholders. In simple terms, with endowment insurance plans, you can create a risk-free savings and secure your family against financial emergencies that may arise in the future. Additionally, endowment plans can help you achieve both long- and short-term financial goals.

Money-Back Plans:

This is one of the best types of life insurance plans in India. It provides both insurance coverage and investment opportunity under the same plan. The policyholders of Money-Back Plans receive regular payouts from an insurance company as an income. In addition to maturity benefit, the life assured also get survival benefit during the policy tenure.

Retirement Plans:

This type of plan, also known as an Annuity plan, will help you secure the golden years of your life. Pension plans provide you with financial security post-retirement. You can ensure that you can continue to live the same lifestyle during your retirement.

Child Plans:

You must always wonder about providing the best to your children. But, sometimes mishaps can be an obstacle in your dream. So, investing in a child plan will ensure that your child is financially protected in case of any mishap that may arise in the future. Child insurance will help your child in achieving different milestones of life such as higher education, marriage, and more.
Medium-Risk Investment
Investment plans that offer diversified and balanced investments fall under the category of moderate or medium-risk investments. These types of plans offer both a wealth creation opportunity and, to a certain extent, protection from market volatility. In order to generate a stable return with the moderate risk involved, medium-risk investment plans primarily aim to diversify investment portfolios through a combination of debt and equity securities. Listed below are a few medium-risk investment plans:
Hybrid debt-oriented funds

Arbitrage funds

Monthly income plans
High-Risk Investment
High-risk investment plans are ideal for investors who are willing to take high risks and want long-term income. The majority of high-risk investment plans involve significant fluctuations, but there is also a very high likelihood of generating a sizable potential return over the long term. Here's a list of some of the high-risk investment plans in India:
Direct Equities:

This is one of the best investment schemes if you are willing to take a high risk. Equities have a proven track record of generating profitable earnings in the long term. In direct equities, the investor can purchase a share of the company's ownership. As a result, the investor will be entitled to the profits and losses of the business.

Unit Linked Insurance Plans: ULIPs are one of the best investment plans in India. It provides the dual benefits of life coverage and wealth creation to investors. Similar to other savings and protection plans, you may have to pay a premium against your Unit Linked Insurance Plans. A portion of a premium paid by you is used to provide life insurance and the remaining amount is invested in different funds of your choice.
Mutual Funds:

In this type of investment, fund managers collect money from different investors to invest in the company's stocks or bonds. After a certain time period, the profit earned from mutual funds is distributed among the investors. As an investor, you get the option to select from different fund options like equity stock, bonds, debentures, and others as per your risk appetite.
Best Investment Plans in India 2023
Here's a list of the best investment plans in India, where you can sow your money to yield profitable returns:
| | | | |
| --- | --- | --- | --- |
| Investment plan | Entry age | Policy tenure | Fund choice |
| Aegon iInvest | 7-55 years | 10- 25 years | 5 |
| Bajaj Future Gain | 1- 60 years | 10- 25 years | 7 |
| Bharti AXA eFuture Invest | 18- 60 years | 10 years | 6 |
| HDFC Life Click 2 Invest Plan | 30 days- 60 years | 5- 20 years | 8 |
| ICICI Pru Smart Life | 20- 54 years | 10- 25 years | 8 |
| SBI eWealth | 18- 50 years | 10-30 years | 4 |
| PNB Metlife Money Back Plan | 13-55 years | 10 years | N/A |
| Kotak Invest Maxima | 0-65 years | 10- 30 years | 5 |
In addition, Indian insurance companies offer a wide variety of other investment plans. To get personalized advice on which investment option is right for you, reach out to the customer service team at InsuranceDekho.
Benefits of Investment Plans
Have you seen your father invest his money in different types of investment options, like real estate? Why do they invest? How will this investment help in the future? Undoubtedly, you want to know the answers to these questions. So, let's find out the benefits of investing in investment plans in detail!
Accomplish Financial Goals:

We all have some financial goals and dreams that we want to accomplish in the future. These goals can either be buying a dream house or providing a better-quality education to our children. If you have similar goals, you can invest in any investment plan like mutual funds, ULIPs, and others that provide high returns on investments.

Tax Benefits:

Investment plans like ULIPs and other online savings plans provide market-linked returns to investors. Additionally, premiums paid against the policy and income generated from these investment schemes are tax deductible under Section 80C of the Income Tax Act 1961.

Financial Protection:

Financial contingencies can arise anytime. Therefore, investment in the right plans will provide financial protection during those tough times. Additionally, in the event of the death of the breadwinner of the family, the dependents can continue to live a financially stable life with the income earned through those investments.

Retirement Planning:

Investment plans are a great source of income that will let you enjoy the golden years of your life peacefully. You can invest in different types of investment plans to ensure that you continue to live a financially stable life even during your retirement.
Factors to Consider When Choosing Investment Plans in India
When choosing the best investment plans in India, there are a few parameters that you need to consider. Some of these parameters are highlighted in the section below:
Financial Goals:

It is important to determine your financial goals before investing in any specific investment plan. The financial goals might be marriage, buying a house or car, planning for retirement, and more. ULIPs are ideal investment options for individuals who have just started their careers. However, if you are in your 40s or 50s, and have long-term goals to fulfil, then investing in an endowment plan or mutual fund is the right choice.

Existing Expenses and Income:

Another step is to figure out existing expenses over your income and understand how much you can save each month to fulfil your desired financial goals. Once you start investing regularly, you will be able to accomplish all your financial goals and objectives.

Future Expenses vs Savings:

One of the important things to consider before investing is the existing savings and the future expenses. For instance, in the future, if you have your child's wedding planned then, in this case, you can choose an option that pays out at regular intervals after a few years so that you can fulfil your future expenses. Investing a high amount currently can help the investor maximize profit in the next 15/30 years.

Number of Dependents:

The sum assured or the investment you would need to make to make sure you can fulfil your obligation to them depends on how many dependents you have. If all you have is a wife and a child, you won't need as much money as someone who needs to save for their parents, in-laws, siblings, etc.
Riders Available Under Investment Insurance Plans
Investors can increase their life insurance investment plan coverage by opting for riders. Here's a list of some of the riders that you can purchase with your base insurance plan:
Accidental Death Benefit Rider:

If the life assured dies due to an accident within a policy tenure, the nominee will receive the sum assured along with rider benefit from the insurance company.

Accidental and Total Permanent Disability Rider:

The policyholder will receive rider benefits if he or she is partially or totally disabled due to an accident.

Critical Illness Rider:

Life-threatening illnesses like cancer, heart attack, stroke, and others can cause financial burdens for your loved ones. Therefore, if you purchase a critical illness benefit rider with your base investment plan, an insurance company will pay the sum assured plus the rider benefit.

Waiver of Premium:

If the policyholder is suffering from any disability or critical illness, an insurance company will waive off all the future premium payments for your life insurance investment plan.

Accelerated Death Benefit Rider:

In this rider benefit, the insurance company pays a part of the sum assured if the policyholder is diagnosed with any terminal illness and the remaining coverage amount is later paid to the nominee.
How Can I Check the Status of My Investment Amount
With guaranteed investment plans like endowment plans, investors do not need to check the status of their investments because the return amount is mentioned on the bond paper they received. However, if you are investing in market-linked investment plans like ULIPs, you can check by following the below-mentioned steps:
Login to the online insurer portal.

Enter your policy details.

On your dashboard, click on the recent transaction followed by fund performance.

The status of all your investments will be displayed.
When is the right time to buy an investment plan? 
The right time to start investing in an investment plan is now. If you have any short-term or long-term financial goals that you want to achieve, then you can compare different investment plans and choose the best one as per your risk appetite.
If you want to invest for the long term, then ULIPs and mutual funds are the best. However, if you want to satisfy your short-term financial needs, you can invest your money in equity funds or the Public Provident Fund.
Process to Claim Investment Insurance Plan
The death benefit claim process and maturity benefit claim process in an investment insurance plan may vary. Here are the steps that you need to follow in each case:
Steps to Claim Maturity Benefit
Fill out the policy discharge form given by a life insurance company before the maturity date.

Attach all the necessary documents like original policy documents, identity proof, and others.

Submit the policy discharge form along with all the documents within 5-6 days of receiving the form.

An insurance company will verify the documents submitted by you.

Once the verification process is completed, the insurer will process your maturity benefit.
Steps to Claim Death Benefit
Visit the official website of the insurance company.

Download and thoroughly fill out the claim form.

Attach all the required documents like the death certificate of the policyholder and others.

An insurance company will verify all the details and documents that you submit. In some cases, an insurer may send an investigating officer to the hospital for verification.

Once this process is completed, an insurer will process the death benefit to the nominee's bank account.
Documents required To Invest in Investment Plans
The following are the documents required to invest in the best investment plans in India.
Identity proof

Address proof

Last 3 months' salary slip

Bank statements for 6 months

ITR returns for 2 years

CA audited profit and loss statement
Can NRI Buy Investment Plans in India?
Non-resident Indian citizens (NRI) can buy investment plans in India. The growing Indian economy has attracted many NRIs to start investing in India. The minimum age of an NRI individual should be 18 years, and the maximum is 60 years, to open an NPS account with a POP in India. Additionally, an NRI may also have to open an eNPS account if they have a PAN or Aadhaar card.
Here's a list of some of the best NRI investment plans in 2023:
Fixed Deposits

Capital Guarantee Solution Plan

Retirement Plans

Guaranteed Returns Traditional Plan

Child Plan

National Pension Scheme

Mutual Funds

Real Estate

Equity Investments

Public Provident Fund
In conclusion, investment is highly important to enjoy a safe and financially stable life. You can compare different investment plans to select the one that best suits your financial needs. Additionally, you can get personalized investment advice at InsuranceDekho. All you need to do is visit the website and submit your inquiry.
Frequently asked questions (FAQ's)
1

What are the things to keep in mind before investing my money?

Following are the things to keep in mind when investing money:

Identify your motive of investment
It is not recommended to put all your money in one basket. Neither all the money should be invested
Do not make any decision in a hurry
It is advised to consult a professional and certified advisor before investing
Do enough research, don't just go after "high returns"
Compare suitable investment plans before buying.

2

How should I invest my future money?

To invest your future money, it is essential to have a fair knowledge about your financial goals, if they are short term or long term, current and future expenses, number of dependents, etc. it will help you determine which type of investment plan is best for you.

3

Which is the best investment option with high returns?

The best investment plans that give high returns are ULIPs and traditional investment plans. But, you must seek the help of your financial planner before investing in them, to balance your investment portfolio.

4

Which is the best short-term investment option?

There are several short-term investment options in India. One of the best options is ULIPs. Others include savings accounts, fixed deposits, Equity Linked Saving Scheme (ELSS), recurring deposits (RD), mutual funds, and money back plans. Recurring deposit is considered to be the best choice if you want to invest for one year. This is because it requires you to pay money on a monthly basis and provides you interest on the money invested. To invest for more than 1 year, equity mutual funds and fixed maturity plans are suited best. This is because these plans offer high returns as well as are more tax efficient than other options.

5

What is a Unit Linked Fund?

In a Unit Linked Insurance Policy, the premium paid gets accumulated in the Unit Linked Fund, which is managed by the insurance company. It is invested in different equity and debt instruments to offer the dual benefit of a life cover and potential to get maximum benefits.