Claim, renew, manage & more
Login
Term Insurance for Family
In order to protect the interests of one's loved ones, one must examine various aspects of financial planning. The list just goes on and on, from insurance to retirement planning to ensuring a child's safety. Family life insurance plans, on the other hand, can cover many of these issues at once.Family life insurance surely plays a key role in protecting the financial future of the individual and their loved ones. Here are some things you should know about family life insurance.
| | |
| --- | --- |
| Features | Offered or not under Family Term Plans |
| Tax benefits | Offered |
| Maturity benefits | Offered under Family Term Insurance with Return of Premium plans |
| Death benefits | Offered |
| Rider option | Offered |

Get Term Plan Coverage of 1 Crore Starting From Just ₹16/Day*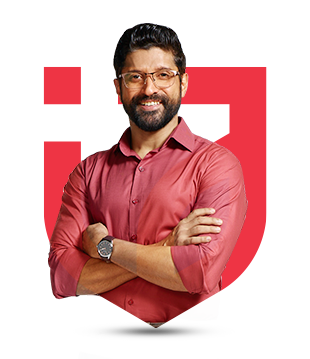 Tax Benefit

Up to 1,50,000**

Claim Support

Everyday 10AM-7PM

45 Lacs+

Happy Customers
*Standard Terms and Conditions Apply.
**Tax benefits are subject to changes in Income Tax Act.
Find
the right term insurance for you
Term Insurance Premium Calculator
Date of Birth
Do you smoke or chew tobacco?
Choose required coverage to secure your family's future
Disclaimer :

1. Premium has been calculated for coverage till 60 years

2. Eligibility depends on income, occupation and educational qualification
Term Insurance
Life is uncertain, and the pandemic has simply added to that uncertainty. You never know when something terrible will happen to you, and your dependents will be left without a primary source of income. If you are the breadwinner in your family, your beneficiaries may have no other source of income to fall back on in the case of your early demise.
Term insurance is one of the most popular protection products on the market for dealing with such eventualities. It provides a slew of benefits to your family members in the case that something bad happens to you. With a comprehensive term insurance plan in place, you can rest easy knowing that the financial future of the family is protected, even if you are not present. They will be able to achieve their life goals in this manner.
Human Life Value/Coverage Calculator
How Can Term Insurance Helps In Securing The Financial Future Of Your Family?
Term life insurance can benefit your family in a variety of ways. Before you get a term plan, be sure you understand all of the term insurance benefits that your family will get. Let's look at how term insurance can help secure your loved ones' financial future.
1. It serves as a replacement for income
Term insurance plans are simply life insurance. This means that term insurance revolves entirely and exclusively around the concept of adequately securing future income of your family. This type of insurance covers the loss of income if one of the earning members of the family, or the only earning member, dies unexpectedly. The term insurance payouts paid to beneficiaries help to replace the income lost due to untimely death of the policyholder.
2. It helps in the maintenance of lifestyle of your family
Two incomes help support the rest of the family in most families with working couples. Even if there is just one earning member in the family, the family overall becomes accustomed to a specific way of life. The level of income earned is in line with the needs and goals. Term insurance payouts, on the other hand, help surviving family members to maintain their level of living when an earning member of the family dies early.
3. It fulfills dreams of your children
Future objectives of your children are determined by your income and that of your spouse (if you are both working). The children would be left without a source of income to support their growth, dreams, and aspirations if one or both earning members died unexpectedly. Term insurance can come in handy in this situation. Even if you are unable to provide for your children, the benefits acquired from a term policy can ensure that their life goals are not compromised.
4. It helps your family in meeting major expenses in the case of an emergency
Perhaps you and your family have some important life goals that you want to fulfill. It is possible that a few years down the road, you will want to purchase a home of your own. Alternatively, it could mean putting your children in the top universities available. There is a chance you have some high-interest bills that need to be paid off. The loss of income in the event of your unexpected death could make it difficult for your family's surviving members to meet these kinds of important expenses. Term insurance, on the other hand, allows them to cover these costs.
Which Life Insurance Plan for Your Family Should You Buy?
The number of people in your family, whether or not you have children, your chances of suffering from a critical illness, and your other investment and savings plans are all factors to consider when choosing a life insurance policy for your family. There are other solutions available; however, the three most popular ones are outlined below:
1. Term Insurance
This is one of the most popular life insurance plans on the market. Term insurance is a type of fixed-term policy in which the insured pays an insurance provider a predetermined premium for a set period of time. In a term insurance plan, you can choose the term duration, the sum assured, and the frequency of premium payments based on your needs. The sum assured (also known as the death benefit) is paid to the family in the unfortunate event that the insured person dies during the term period.
2. Pension Plans/ Retirement Plans
Retirement insurance plans allow you to put money aside for your golden years. These are similar to pension plans, but they also include health insurance. An individual pays a premium to the insurance provider at regular intervals or as a one-time payment in retirement insurance plans. The nominee can eventually collect this premium as a death benefit if the covered person passes away.
3. Child Insurance
Child insurance is a great way to protect the financial future of your child. Child insurance funds can be used to pay for the child's education, wedding, health, and other expenses. Parents, grandparents, or guardians can build up funds in a child insurance plan by paying regular or one-time payments until the child reaches the age of 18. You can either claim the entire corpus or opt for regular installments that can care for the child after the child reaches the age of 18.
Types of Term Insurance Plans
Popularly Opted Term Insurance Sum Assured
Term Insurance Companies User Reviews
What users are saying