Claim, renew, manage & more
Login
Spouse Term Insurance
A spouse term insurance policy is a term insurance policy that provides life cover for the life assured and their spouse, under the same term insurance policy. A spouse term insurance policy provides several benefits to the life assured and the spouse. In case of an untimel demise of the life assured or the spouse, a death benefit shall be provided.

Get Term Plan Coverage of 1 Crore Starting From Just ₹16/Day*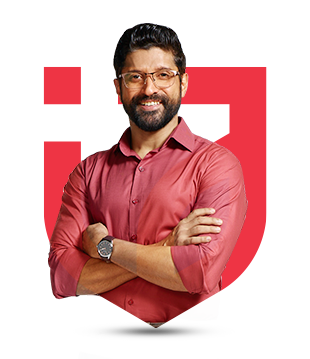 Tax Benefit

Up to 1,50,000**

Claim Support

Everyday 10AM-7PM

45 Lacs+

Happy Customers
*Standard Terms and Conditions Apply.
**Tax benefits are subject to changes in Income Tax Act.
Find
the right term insurance for you
Term Insurance Premium Calculator
Date of Birth
Do you smoke or chew tobacco?
Choose required coverage to secure your family's future
Disclaimer :

1. Premium has been calculated for coverage till 60 years

2. Eligibility depends on income, occupation and educational qualification
Buy Spouse Term Insurance Plans In India
Homemakers play a very vital role in a family, they act as a support system for them, especially the sole breadwinner. When the sole breadwinner of the family leaves to earn a living, the homemaker takes care of everything in their absence. Homemakers take care of household chores as well as family members.
As important term insurance is for working professionals, as it is for housewives. In case of unforeseen demise of the homemaker, all family members may suffer a loss mentally, emotionally, and financially.
Human Life Value/Coverage Calculator
What Is Spouse Term Insurance?
A spouse term insurance policy provides individuals to insure themselves and their spouse under the same term insurance policy. Spouse term insurance policies provide comprehensive protection and multiple benefits to both husband and wife insured under the policy. A spouse term insurance policy that a person's family is financially protected even if either of the policyholders is not there.
Such term insurance plans have been introduced with a motive to give respect to both spouses and to ensure that both the partner's lives are equally important. Under a spouse term insurance plan provides a death benefit in case of an untimely demise of either of the two policyholders.
Why Should Homemakers Buy Term Insurance Plans?
Term insurance plan is a must-buying insurance product an individual can buy to protect themselves and their families against the financial impact of their untimely passing. The same goes for Homemakers.
In the event that the homemaker is deemed to have passed away unexpectedly, all of her family members will be affected mentally and emotionally. Term insurance coverage for housewives may help cover education costs for your children, health care expenses, loans, and liabilities in case of any mishappening.
Below mentioned are some of the top Term Insurance plans for housewives in India:
What Term Insurance Can Do For A Housewife?
Term insurance plans offer several benefits to housewives:
1. Providing Financial Security
A homemaker has an inestimable value among the family members. Financially, term insurance plans can be lifesavers if something unfortunate happens. Some term insurance plans for housewives may cover health expenses, education, etc.
For example, if a housewife died in an unfortunate accident, the payouts from a term policy would have been able to cover both immediate and long-term needs.
2. With Less Premium, You Get Better Coverage
Term Insurance is one of the most economically advantageous insurance plans, which are also known as the purest form of insurance. A great health insurance plan is available with a large sum assured and highly affordable premiums for your wife. Premiums are heavily influenced by factors such as age and tenure of the policy. When the right age and time are matched with term insurance plans, great coverage can be obtained at a small monthly premium.
3. Benefits of Taxation
Term insurance plans also tax benefits, under Section 80C of the Income-tax Act, 1961 offer tax benefits for the premiums paid towards the insurance policy. A critical illness policy is also tax-deductible.
* Tax benefits are subject to changes in tax laws
4. Premium Waiver
In the unfortunate event of the death of the policyholder, Term Insurance offers the option of waiving the premium. This attribute is particularly useful for housewives, who are always financially dependent on their working partner.
5. Rider Benefits
Policyholders can enhance their coverage by adding rider benefits or additional insurance plans. So, along with term insurance, one may opt for rider benefits as well.
In terms of insurance for housewives, some riders benefits are included:
1. Rider for Accelerated Death
2. Rider for Accidental Death
3. Rider for Accidental Disability
4. Rider for Critical Illness
5. Rider for waiver of premium
6. Rider for income benefits
Types of Term Insurance Plans
Popularly Opted Term Insurance Sum Assured
FAQ About Spouse Term Insurance
Is there any maximum age limit for purchasing a term insurance plan for housewives?

Different plans have different age criteria. However, in most of the plans, the minimum and maximum age are 18 to 65.

How do riders function under a term insurance policy?

Riders act as additional covers for a term insurance plan as they help enhance the basic plan coverage. There are various types of riders available with term plans such as Critical Illness Rider, Accidental Total and Permanent Disability, Accidental Death Benefit, Waiver of Premium Rider, etc.

Do term insurance policies offer accidental coverage for housewives?

Yes, a term insurance plan for housewives pays a portion of the sum insured to treat your disease if you can't make the payment or are suffering from a terminal illness.

Are term insurance plans right for housewives?

Yes, just like all other individuals, every housewife should also get a term insurance plan for themselves. If in an unfortunate event, something happens to a homemaker, a term plan can play an important role by supporting their loved ones financially. By doing so, they ensure that their family receives financial security even in their absence.
Term Insurance Companies User Reviews
What users are saying