Find
the right insurance for you
Group Health Insurance
Group Health Insurance is a type of plan that provides insurance coverage to a group of members, usually a group of employees of a company or members of an organization.
Why Should I Buy a Group Health Insurance?
Group Health Insurance is also referred to as Corporate Health Insurance. The primary benefit provided by employers under a Group Health Insurance policy is that the employees often get an option to include their family members namely spouse, children, and in some cases parents too.
Group Health Insurance proves to be a beneficial plan for both employers as well as employees. A Group Health Insurance plan provides employers with benefits like low cost, tax benefits, motivated employees, and increased employee retention.
Benefits Of Group Medical Insurance Policy
Immediate cover without any waiting period
No health check-up required
Cover for pre-existing diseases from day one
Wide cover range with no limit on number and types of diseases
Advantage of maternity benefit along with cover for newborn baby expenses
Low premium in comparison to individual health insurance
It is important to note that employees can enjoy the benefits of a corporate health insurance policy only till they work in the organization which bought the plan. The day employees quit the job, their Group Health Insurance plan becomes null and void.
How Many Members Can Be Covered Under Group Health Insurance?
Under group health insurance, you can cover your dependents such as spouse, parents, or children (depending on the plan).
How To Buy The Best Group Health Insurance Policy
When it comes to buying a Group Health Insurance plan, it is the employer who makes the choice. An employee cannot buy the policy.
If you are an employer looking for the best Group Health Insurance plan for your employees, consider the below-mentioned points while purchasing a plan:
1. Coverage
The most important aspect of a Group Health Insurance plan is its coverage. The policy should cover all medical needs of the employees, without compromising on the quality of treatment.
2. Service
The quality of service is another factor that you must keep in mind while buying a Group Health Insurance plan for your employees.
3. Geographical Coverage
An ideal Group Health Insurance plan should come with a vast cover in terms of geographical location. Also, it is important to check the number of hospitals that are a part of the insurer's network spread across the country. A cashless claim facility is available only at insurer partner hospitals.
4. Premium Amount
Premium is another key aspect that you should consider while purchasing a Group Health Insurance plan. You must ensure that the premium paid is worth the coverage provided.
5. Exclusions
Besides checking the coverage, also do check the exclusions of the Group Health Insurance plan beforehand so that your employees do not face inconvenience later
Health Insurance Calculator
Whom do you want the insurance for ?
You
Couple
Family
Father
Mother
Select the age of all members
Choose required Coverage for yourself?
Disclaimer : Actual Premium might vary basis your location, age and number of members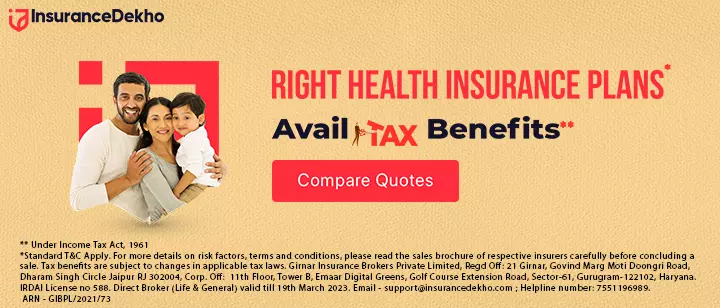 Choose Group Health Insurance Plan With
Learn more about group Health Insurance
Health Insurance Group FAQs
What is group health insurance and how does it work?

A group health insurance policy fulfils the insurance requirements of a group of members, usually the members of an organisation or employees of a company.

When should I buy a group health insurance plan?

You are not required to buy a group health insurance policy. A group health insurance policy, also known as a corporate health insurance policy is provided to you by the employer when you join a company that provides the benefit.

What is covered under group health insurance?

A group health insurance policy covers the employees against several healthcare expenses such as in-patient hospitalisation expenses, pre-hospitalisation and post-hospitalisation expenses, daycare procedures, ambulance expenses, etc.

What is the waiting period for group health insurance?

Group health insurance plans do not come with any waiting period. This means that the insured can start availing the policy benefits from day 1.

What are the eligibility criteria for group health insurance?

People working in the company that provides health insurance to its employees are eligible to get the insurance as per the terms and conditions of the company.
Insurance Dekho Contact Details
Reach us for help anytime
Health Companies User Reviews
What users are saying
Health Insurance Articles
Latest Articles
Popular Articles
*Standard T&C Apply. All savings/offers are provided by the Insurers, which are subject to modification .For more details on risk factors, terms and conditions, please read the sales brochure of respective insurers carefully before concluding a sale. Tax benefits are subject to changes in applicable tax laws. Girnar Insurance Brokers Private Limited, (CIN: U66010RJ2016PTC054811, Regd .Off: Girnar 21, Govind Marg, Moti Doongari Road, Dharam Singh Circle, Jaipur, Rajasthan- 302004; Corp. Off: 11th Floor, Tower B, Emaar Digital Greens, Golf Course Extension Road, Sector-61, Gurugram-122102, Haryana. IRDAI License no 588. Direct Broker (Life & General) valid till 19th March 2023. Email - support@insurancedekho.com ; Helpline number: 7551196989.
You authorise Girnar Insurance Brokers Pvt Ltd (insurancedekho) to contact you through call, SMS, email, WhatsApp or any other mode in future. You hereby override your NDNC registration.