Claim, renew, manage & more
Login
Bike Insurance in
60 seconds
Bike No.
Select Plan
Policy Issued
Honda Aviator Insurance
plans offered by insurers
Secure your bike and save up to 75%* on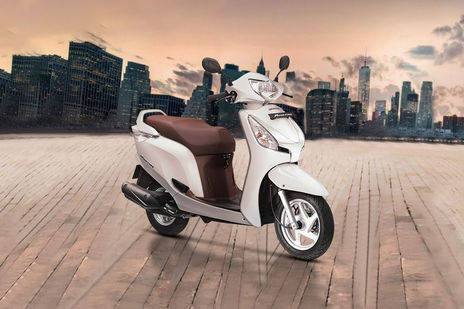 Calculate Your Honda Aviator Insurance
Select your Two wheeler brand
Which city is your Two wheeler registered in?
Ahmedabad
Bangalore
Chandigarh
Chennai
Gurgaon
When did you buy your Two wheeler?
Have you made a insurance claim in the previous year?
​How to Buy Insurance for ​​​​Honda Aviator ​via InsuranceDekho
Honda Aviator Bike Insurance Summary
Honda Aviator is Honda's premium 110 cc scooter that offers a comfortable ride. It is sold in three variants in India. The base model has drum brakes and steel wheels. The next one comes with alloy wheels but also with drum brakes. And finally, the last variant comes with a front disc brake with alloy wheels. All of them offer CBS combined brakes as standard. The choice of colours offered for this bike is pearl igneous black, matte selene silver metallic, pearl spartan red, and pearl amazing white all of which give the scooter an attractive look. The scooter also offers a mobile charging point as an option.
Honda Aviator Bike Insurance
To ride a bike in India, getting a third party bike insurance policy is mandatory, according to the Indian Motor Tariff. If you ride without a third party bike insurance policy, then you may be punished with a fine of Rs. 2,000 and/or imprisonment for up to 3 months. Another reason to buy this policy is that it protects you from damages to the third party's vehicle, property, or bodily injuries. So, you must ensure to buy one and renew it from time to time in order to ride legally in the country.
Types of Insurance Cover
Third Party Bike Insurance Policy: Third party bike insurance policy is the basic requirement in India. It covers financial and legal liabilities arising due to death, injury, or other damage caused due to any misfortune event. The policy covers you for up to Rs. 1 lakh.
Standalone Own-Damage Bike Insurance Policy: Standalone own-damage bike insurance policy offers protection against own-damages sustained by your bike. The basic requirement for getting this policy is to have a third party bike insurance policy.
Comprehensive Bike Insurance Policy: A comprehensive bike insurance policy offers you the benefits of both third party bike insurance policy and standalone own-damage bike insurance policy. Also, you can purchase add-on covers as per your requirement when buying a comprehensive bike insurance policy.
How to Buy Insurance for Honda Aviator from InsuranceDekho
Purchasing bike insurance policy for your Honda Aviator bike online from InsuranceDekho is very easy. The process takes just a few minutes. To buy one, follow the steps given below:
Step 1: Visit the official website of InsuranceDekho.
Step 2: Select 'Bike' and enter your bike's number. Click on the 'Get your Quotes' button. In case you don't remember your bike's number, then please enter its brand, model, fuel type, variant, registration year, etc.
Step 3: Enter your personal details like Name and Mobile Number. You will see several quotes on your screen.
Step 4: From various quotes displayed on your screen, select the most suitable bike insurance policy for your Honda Aviator bike as per your budget and requirements.
Step 5: Pay premium online for the selected bike insurance policy. You will receive the policy document via email within the stipulated time.
Honda Aviator Bike Insurance Claim Process
Cashless Bike Insurance Process
The cashless bike insurance process makes your Honda Aviator bike get repaired without making any payment at a network garage as under this process the insurer is liable to settle the expense of the repair of your bike. Here is the cashless claim process for your Aviator bike:
Inform your insurance company just about the accident by contacting their customer support team or by visiting their website or through their mobile app, if available.
Share all events of the event accurately and correctly to the police and lodge an FIR, especially in case of accident, fire, theft, and so on.
Click photos of damages sustained by your bike, bodily injuries suffered by you or any passenger, etc., after the accident to hold as evidence during the claim settlement.
Search a network garage nearby and pull your bike there for repair. If your bike is unable to be moved due to damage, you can also contact your insurer to arrange towing facilities.
Once your bike reaches the garage, your insurance company will send a surveyor to survey your bike's damages and assess their extent. He may also require you to show him all the valid documents like policy copy, registration certificate, driving license, FIR, etc.
The surveyor will estimate the claim amount and prepare a claim report and send it to your insurer. Based on the surveyor's report, your insurer will approve or reject your claim.
If your insurance company approves the surveyor's report, the network garage will start repairing your bike and its repair bill will be settled by the insurer directly with the garage.
Reimbursement Bike Insurance Process
The reimbursement bike insurance claim process will make your insurer reimburse your repair amount after the repair based on the bill submitted by you and your bike insurance policy coverage. Below is the reimbursement claim process for your Aviator bike:
Inform your insurance company about the incident promptly and register your claim.
Take your insured bike to any garage of your choice to get it repaired.
A surveyor will be sent by your insurer to access the level of damages.
A claim report will be prepared and submitted by the surveyor to your insurer.
The garage will repair your bike and generate the bill which you will have to pay.
Submit the original bills of repair to your insurance company with a claim form.
The insurer will examine repair bills and claim form and reimburse the cost of repair.
Honda Aviator Variants with Insurance Premium Price
You can refer to the below table for an estimated premium for your Honda Aviator third-party/comprehensive car insurance plan. The premium varies as per the chosen variant of the car. Honda Aviator is available in 3 variants. The premium of an own-damage car insurance cover is decided by the insurance company and depends on multiple factors such as the car's cubic capacity (CC), make, model, variant, fuel type, RTO location & claim history.
Honda Aviator Disc Brake

109.19 cc,Petrol

Honda Aviator Drum Brake Alloy

109.19 cc,Petrol

Honda Aviator Drum Brake

109.19 cc,Petrol
Add-ons For Your Honda Aviator Bike Insurance
To further enhance the coverage offered under your bike insurance policy, you can choose from the below bike add ons by paying additional premium.
Find Right Bike Insurance Quotes by Bikes Body Type
Commuter
Scooter
Sport
Cruiser
Honda Aviator Bike Insurance User Reviews
6 Reviews
Why did they insure their bike with InsuranceDekho
Write a Review
Honda Aviator
For any assistance or query, call us on
InsuranceDekho

7551196989

(Mon to Sun 10 AM to 7 PM)
Honda Aviator Bike Insurance FAQs
1

What is the Best Two-Wheeler Insurance for My Honda Aviator?

When purchasing two-wheeler insurance everyone is looking for a good deal. The easiest way to find one is to purchase your insurance online. It makes the entire process extremely simple and convenient. Moreover, you can compare the different two-wheeler insurance companies, the quotes they are offering and their network of cashless garages before you make your decision. One way to shortlist two-wheeler insurance companies is to look at their claim settlement ratio. Here are some of the highest-ranking two-wheeler insurance providers in India:

IFFCO Tokio General Insurance - 96.30%
Royal Sundaram General Insurance - 92.66%
The Oriental Insurance Company - 91.76%
HDFC ERGO General Insurance - 91.23%
Universal Sompo General Insurance - 90.78%

2

Will Two-Wheeler Insurance Pay for the Cracked Windshield of My Honda Aviator?

Your two-wheeler insurance provider will only pay for the damaged windshield of your Honda Aviator if you have an own damage cover. You can purchase this for your Honda Aviator either as a standalone own damage cover or as part of a comprehensive insurance plan. Moreover, the insurance company will only provide compensation for the damage if there was no illegal driving or misuse involved. Similarly, if the mishap occurred when the two-wheeler was being used by somebody other than the insurance holder, the insurance company will not compensate for the damages.

3

Does My Second Hand Honda Aviator Need Two-Wheeler Insurance?

Yes, your second hand Honda Aviator requires at least third party insurance. This type of insurance is compulsory for every two-wheeler in India and takes care of third party liabilities in the event of a mishap. If caught on the road without third party insurance you can be fined Rs. 2000 and/or imprisoned for up to 3 months. In case of a mishap, the insurance will take care of bodily injuries, death and property damage of the third party only.

4

What Factors Affect the Insurance Premium of My Honda Aviator?

There are several factors that go into deciding the insurance premium of your Honda Aviator. However, the most important factor is the Insured Declared Value of your two-wheeler. The IDV of your Honda Aviator is the maximum compensation the insurance company will offer you in case of a mishap and it takes into account the depreciation of the two-wheeler. This means, the older your Honda Aviator the lower its IDV, premium amount and claim amount.

5

How to File a Claim for My Honda Aviator?

To file a claim for your Honda Aviator follow these steps:

Step 1: Contact your insurance provider and inform them about the mishap involving your Honda Aviator. You can use their 24x7 helpline number to do this.

Step 2: If your Honda Aviator was involved in a road accident, case of vandalism or theft, you will need to file an FIR. Make sure to do this at the earliest at your nearest police station. You will also need the FIR for your claim procedure.

Step 3: Submit the documents required for the claim procedure along with the claim form duly filled.

Step 4: If your Honda Aviator needs to be repaired the insurance company will first send a surveyor to assess the damage. Next, your claim will go through a verification process.

Step 5: If the claim is approved, you can then take it to a garage to get it repaired. If you choose to take your Honda Aviator to a network garage, the entire process will be done in a cashless manner with lower out-of-pocket expenses.