Reasons Why You Should Never Lie To Your Car Insurance Company
Published On Aug 04, 2021, Updated On Aug 10, 2021
Read this article to find out why you should always be truthful with your car insurance provider during the claim settlement process.
Table of Contents
Accidents are unforeseen and can be traumatizing. They usually result in causing damage to your prized four wheels. Repairing these damages is usually very expensive. This is one of the main reasons why you need to keep your car insured. However, when you claim your car insurance, you need to keep in mind certain points so as to avoid rejection of your claim. One of the major points that you should remember is that you must never lie to your insurance company. This is not only while claiming insurance, but also while purchasing or renewing it. Read this article to understand why you must be honest with your car insurance provider.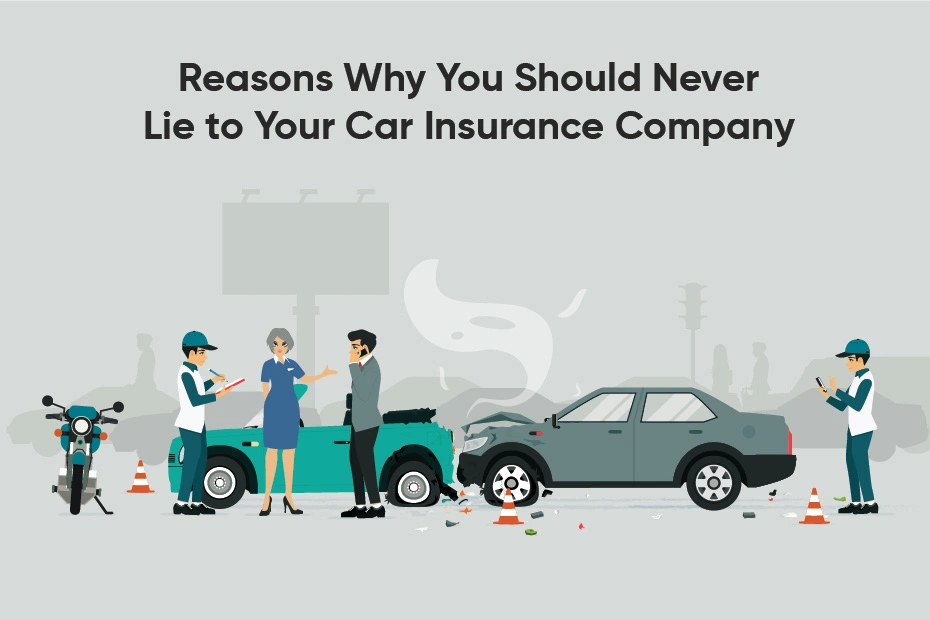 Why Should You Not Lie To Your Car Insurance Provider?
Insurance companies usually work on the principle of utmost good faith. This technically implies that they render services like providing the policyholders financial assistance in times of need on a monetary agreement. Lying to your insurance provider will break this contract and result in legal complications.
Since car insurance policies are of different types, they cover different situations and this implies that not all situations may be covered by your car insurance plan. The insurance company sends a survey team to investigate the reason behind the damage to ensure that the damage caused is due to a situation that comes under the premises of your car insurance plan. While checking for these damages, the survey team will also ask you various questions about how the damage was caused. Your claim will be rejected if they find that the situation that caused damage to your car was not covered in your policy. Being honest with your car insurance provider is paramount to avoiding rejection of your car insurance claim.
Not informing your car insurance company about the latest modifications or taking your car to get repaired before investigation are also considered as withholding the truth, or lying. One of the most important things is to obey the traffic rules while driving your car. Not obeying these traffic rules may lead to rejection of your claim if a misfortune accident occurred at that time.
You may also like to read:- How to Cancel A Car Insurance Policy and Receive A Refund?
Other Reasons Why Your Car Insurance Claim May Get Rejected
Among other reasons, car insurance claims are rejected commonly because of the following issues -
Invalid Car Insurance Policy
Every insurance policy has a specified time of validity after which it must be renewed in order to stay active and get the benefits it offers. You will be unable to lodge a claim or get insurance benefits if you do not renew your lapsed coverage. Because accidents can happen at any time, it's vital to keep your insurance policy up to date. Being prepared for a crisis is preferable to be caught off guard. If insurance coverage has expired, no insurance company will accept a claim. It's a good idea to renew and update your insurance on a regular basis. As a result, if you file a claim under an expired vehicle insurance policy, your insurance company will deny your claim.
Purpose of The Car And Policy Type
The intended usage of the vehicle is used to classify insurance coverage. Private and business automobile insurance policies are different. If you have private auto insurance coverage, it is likely that it will be denied if you are in an accident while driving for business.
Your insurance claim may be cancelled if you repair your car without alerting your insurer. This is owing to the fact that after an accident, the firm conducts surveys on the damaged car in order to insure it. Before beginning with the repairs, it is necessary to get approval from the insurer.
Also Read:- All About Car Insurance Frauds In India
Take Away
It may appear like filing a car insurance claim is a hard process, but it is vital to follow the appropriate procedures at each step to safeguard your safety and avoid having your claim denied. To avoid legal issues, make sure you don't omit information from your insurance company while filing a claim and that you renew your coverage on a regular basis.
Disclaimer: This article is issued in the general public interest and meant for general information purposes only. Readers are advised not to rely on the contents of the article as conclusive in nature and should research further or consult an expert in this regard.