Benefits of Purchasing An ICICI Lombard Comprehensive Car Insurance Policy
Published On Jul 23, 2021
Read this article to find out how it is beneficial to purchase a comprehensive car insurance policy from ICICI Lombard General Insurance.
Table of Contents
For every car owner, the Indian Motor Vehicle Act must have vehicle insurance coverage. However, an insurance policy that offers the necessary cover is quite vital to acquire. This post provides extensive information on the top five of ICICI Lombardi's comprehensive car insurance that is suited for your needs.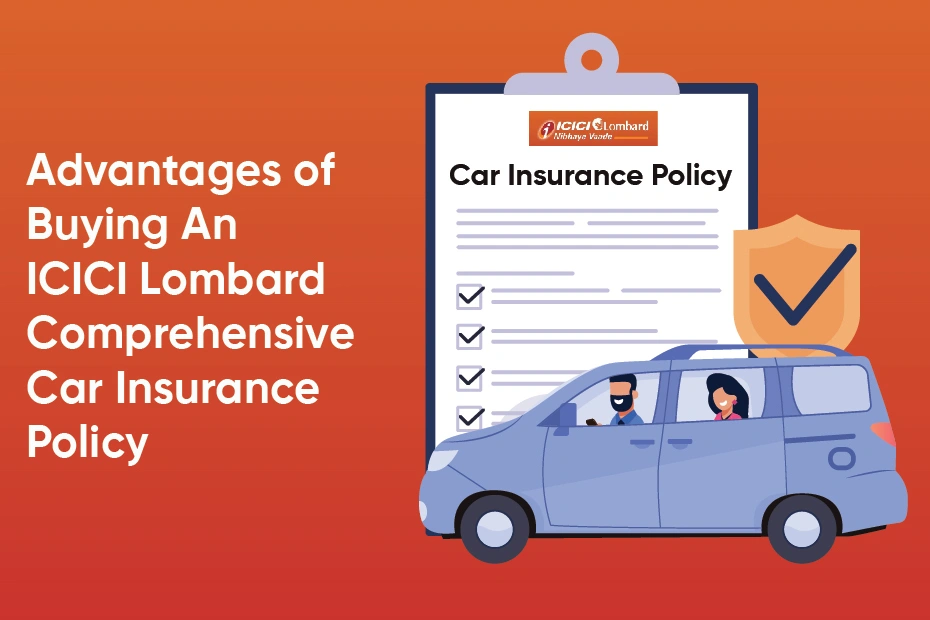 Features Offered By ICICI Lombard Comprehensive Car Insurance
A comprehensive car insurance coverage offers financial help to recompense the third party for losses in the event of an accident or to repair damage to your car caused by other than collision occurrences. Comprehensive insurance therefore provides more coverage than an insurance policy of a third party. This is the advantage of buying an ICICI Lombard comprehensive car insurance policy -
Cover for Zero Depreciation
This is a complementary coverage provided with a comprehensive vehicle insurance plan from ICICI Lombard. If you submit an insurance cover, the cost of your car less depreciation will be paid to you by your insurance provider. The zero depreciation protection is available in full, with no depreciation write-off. The premium under this insurance is comparatively larger, but extremely helpful for pricey and luxury mid- and top-section cars.
Convenient Cashless Facility
Insurance companies usually have tie-ups with authorized service stations and garages. These garages are termed as network garages. Repairing your car at such service stations will imply that you don't have to pay for the repair bills. Once the insurance company is done inspecting your car for damages, you can repair your car at your nearest network garage. The bills of the repairs will be paid by ICICI Lombard General Insurance when you purchase a comprehensive car insurance policy. It is absolutely convenient owing to over 3,500 authorized network garages.
The time period during which the car insurance policy expires is no more than the time and latency until your policy is renewed. Your insurance provider will not cover any accidents that occur during this period of time. ICICI Lombard, however, provides you seamless break-in insurance at a reasonable price. It also gives a door surveyor and a digitally signed insurance. This makes it easy for you to get your break-in insurance coverage. So even after your insurance ends, you can stay protected. If you renew your car insurance within 90 days, your NCB component will also stay intact.
The most important coverage for every vehicle insurance policy is personal accident protection. This gives financial aid in case the policyholder is involved in any accident leading to automobile damage or body damage. A personal coverage for a personal accident provides money assistance in order to repair the damages in the event of an accident to the policyholder's car, and also pays medical charges for any bodily harm. Your comprehensive vehicle insurance coverage might include this cover individually.
One of the largest savings for your insurance rate is the no-claim benefit. This is a discount that your insurance provider offers when you have a policy year without any claims. Incremental and cumulative nature of NCB. This implies for each claim-free year that you receive a larger reduction on your vehicle insurance price. With the ability to keep the NCB component from the prior insurance policy, ICICI Lombard provides up to 50% off your premium.
Take Away
Only after comparing several plans and insurance providers should a vehicle insurance coverage be purchased. Check the different insurance companies' facilities and compare them with other policies to obtain the best auto insurance policy possible.
Also Read:
5 Most Important Sections In Car Insurance Policy Wordings
Top Factors That Determine The Premium of Your Car Insurance Plan
Disclaimer: This article is issued in the general public interest and meant for general information purposes only. Readers are advised not to rely on the contents of the article as conclusive in nature and should research further or consult an expert in this regard.