Claim, renew, manage & more
Login
Honda Dio Insurance
plans offered by insurers
Secure your bike and save up to 75%* on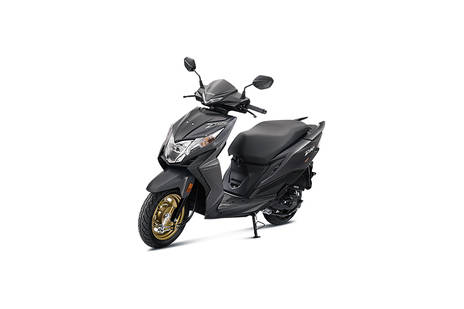 Calculate Your Honda Dio Insurance
Which city is your bike registered in?
Ahmedabad
Bangalore
Chandigarh
Chennai
Gurgaon
When did you buy your bike?
Have you made a claim in the previous year?
​How to Buy Insurance for ​​​​​Honda Dio​ via InsuranceDekho
Honda Dio Bike Insurance Summary
Honda Dio is a scooter available in two variants and six colors in India. Powered by a 109 cc engine, the scooter gives a mileage of 50 kmpl. It comes with attractive features like a silent starter, external fuel filler cap, tumble flow, side stand engine inhibitor, and friction reduction technology. Also, both of its front and rear brakes are drum brakes. The 105 kg scooter has an automatic gearbox as well. It is evident from the design of the scooter that it targets the younger consumers.
Honda Dio Bike Insurance
In India, having a third party insurance as the basic legal requirement as per the Indian Motor Tariff. It covers for the third party liabilities and as a responsible citizen, you must own one to avoid being punished with a fine of Rs. 2,000 and/or imprisonment for up to 3 months. Every bike is eligible to be covered with a third party bike insurance cover and so is your Honda Dio. So, you must own one and keep renewing it timely before expiration to be able to ride legally in the country.
Types of Insurance Cover
Third Party Bike Insurance Plan: Third Party bike insurance plan is the most basic type of cover available, purchasing which is mandatory by law in India. The plan covers for third party liabilities in case of an unfortunate event for up to Rs. 1 lakh.
Standalone Own-Damage Bike Insurance Plan: Standalone own-damage plan is a more useful plan for you as it solely covers for your bike's own damages and losses. You can buy this plan only when you already have a third party bike insurance plan.
Comprehensive Bike Insurance Plan: Comprehensive bike insurance plan is a mix of third party bike insurance plan and standalone own damage bike insurance plan. It is not mandatory to purchase but can protect you against both third party liabilities as well as own-damages incurred by your bike. You can also buy add-ons when purchasing a comprehensive bike insurance policy.
How to Buy Insurance for Honda Dio from InsuranceDekho
Buying insurance for Honda Dio online at InsuranceDekho is an easy and hassle free process. You can buy an insurance policy for Honda Dio online at InsuranceDekho by following a few simple steps. Read the steps below:
Step 1: Visit the official website of InsuranceDekho.
Step 2: Select 'Bike' and enter your bike's number in the given space and click on 'Get your Quotes'. In case you don't remember your bike's number, then please enter its brand, model, fuel type, variant, registration year, etc.
Step 3: Enter your personal details (Name and Mobile Number) and view quotes.
Step 4: From various quotes displayed, select the most suitable bike insurance plan for your Honda Dio bike as per your requirements and budget.
Step 5: Pay for the chosen policy. You will receive the policy document via email.
Honda Dio Variants with Insurance Premium Price
You can refer to the below table for an estimated premium for your Honda Dio third-party/comprehensive car insurance plan. The premium varies as per the chosen variant of the car. Honda Dio is available in 3 variants. The premium of an own-damage car insurance cover is decided by the insurance company and depends on multiple factors such as the car's cubic capacity (CC), make, model, variant, fuel type, RTO location & claim history.
Honda Dio DLX

109.51 cc,Petrol

Honda Dio Repsol Edition

109.51 cc,Petrol

Honda Dio STD

109.51 cc,Petrol
Add-ons For Your Honda Dio Bike Insurance
To further enhance the coverage offered under your bike insurance policy, you can choose from the below bike add ons by paying additional premium.
Check Insurance Quotes of Similar Bikes
View Honda Activa 6G Insurance Quotes

View TVS NTORQ 125 Insurance Quotes

View TVS Jupiter Insurance Quotes

View Suzuki Access 125 Insurance Quotes

View Honda Activa 125 Insurance Quotes
Find Right Bike Insurance Quotes by Bikes Body Type
Commuter
Scooter
Sport
Cruiser
Partner Bike Insurance Companies
Honda Dio Bike Insurance User Reviews
26 Reviews
Why did they insure their bike with InsuranceDekho
First experience

Good and well customer support from there team . All the best easy to access what they already mentioned on there flat f...

Digit General Insurance Limited

By AHAMAD JAN

On:31st December, 2022

Nice experience

Easy to use . User friendly comparing to other sites. Quit awasome to create insurance for bike. And one thing. On pa...

Read More

Universal Sompo

By dinesh kumar

On:12th July, 2022

excellent work Easily done

Fast,good,excellent,good experience.It was easy to get it done.Even a common man can easily do the procedure.It was a go...

Read More

New India

By NISHA R

On:3rd June, 2022

Apt plan details

On the InsuranceDekho website, the details available are relevant, which made the issuance of the Future Generali bike i...

Read More

Future Generali

By Yuvraj Mittal

On:24th January, 2022

Relevant plan details

At the InsuranceDekho website, the details available are relevant, which made issuance of Future Generali bike insuranc...

Read More

Future Generali

By Shahbaz Singh

On:20th December, 2021

thank you so muchi

ok thanks for your help. it is best experience ever i had , howeverm y policy is not distributed as much as early. so pl...

Read More

New India

By JEEVITHA S

On:21st August, 2021

great for clarity

I have done in 2 minutes my insurance. never did like this. I have done in 2 minutes my insurance. never did like this.I...

United India Insurance Company Limited

By PATNALA SRIDEVI

On:13th August, 2021

Convenience in comparison

I am thankful to InsuranceDekho for making the process of insurance policy comparison easy and convenient for me. I made...

Read More

Reliance

By Anish Ranjan

On:11th August, 2021

Multiple Add-Ons

I wanted to enhance the coverage of the Kotak bike insurance plan issued for my Honda Dio. At InsuranceDekho's website I...

Read More

Kotak

By Rohit Satya

On:14th July, 2021

Keeps updated

InsuranceDekho keeps me updated regarding my upcoming installation of premium payment and renewal dates constantly throu...

Read More

Edelweiss

By Vir Mittal

On:22nd June, 2021
Write a Review
Contact Details
For any assistance or query, call us on
InsuranceDekho

7551196989

(Mon to Sun 10 AM to 7 PM)
Honda Dio Bike Insurance FAQs
1

What is the Best Two-Wheeler Insurance for My Honda Dio?

When purchasing two-wheeler insurance it is best to purchase online. Purchasing online gives customers the option to check and compare the quotes offered by the two-wheeler insurance companies. Moreover, you can also check their network garages, their claim settlement ratio and their terms and conditions etc. There is no single policy that is the best when looking for the right insurance. Simply ensure that the insurance policy you select is within your budget and fulfils your requirements. Make sure you understand the basics of two-wheeler insurance, it will make sure your decision is an informed one.

2

Will Two-Wheeler Insurance Pay for the Cracked Windshield of My Honda Dio?

The insurance holder will pay for your damaged windshield only if you have an own damage cover. The own-damage cover takes care of your two-wheeler in case of a mishap in several different possible scenarios including vandalism, theft, fires, road accidents and damage caused by natural or manmade calamities. However, keep in mind that if the damage was caused due to some form of illegal driving or misuse of the two-wheeler the insurance company will reject your claim.

3

Does My Second Hand Honda Dio Need Two-Wheeler Insurance?

Yes, every two-wheeler in India must have at least third party insurance according to the Motor Vehicles Act of 1988. This includes all second-hand two-wheelers including your Honda Dio. Since third party insurance is mandatory, if caught without it you can be punished. This includes a fine of Rs 2000 and/or imprisonment for up to 3 months.

4

What Factors Affect the Insurance Premium of My Honda Dio?

The premium amount charged for your Honda Dio insurance is determined by several factors. However, the most significant determinant is the Insured Declared Value of the two-wheeler. The IDV of your Honda Dio takes into account the age of the two-wheeler and the corresponding depreciation rate. It is also the maximum compensation the insurance company offers its customers in the event of a mishap. Thus, the older your two-wheeler the lower the IDV and this means lower premiums and claim amounts.

5

How to File a Claim for My Honda Dio?

To file a claim for your Honda Dio follow the below-mentioned steps:

Step 1: Contact the insurance provider and inform them about the accident as soon as you can. Also, ask about the documents you will need to provide for filing the claim.

Step 2: If the mishap with your Honda Dio was a road accident, theft or case of vandalism make sure to file an FIR at your nearest police station.

Step 3: Collect all the documents required for the claim process and submit them to your insurance provider along with the claim form duly filled.

Step 4: If the Honda Dio needs to be repaired the insurance company will first send a surveyor to assess the damage. Next, the claim will go through a verification process.

Step 5: If the claim is approved you can then take your two-wheeler to the nearest network garage and get the repairs done in a cashless manner.

6

How to Receive NCB for My Honda Dio Insurance?

Insurance companies offer the No Claim Bonus to two-wheeler insurance holders for every claim-free year but only if they have an own damage cover. This can be purchased either as a standalone own damage cover or a comprehensive two-wheeler insurance plan. The reward is given to the insurance holder for their safe driving habits. It is cumulative in nature and reaches its maximum in the 5th consecutive claim-free year.

7

What is Zero Depreciation in Two-Wheeler Insurance and How Does it Affect My Honda Dio?

The Zero Depreciation Cover is an add-on that can be purchased with standalone own damage covers and comprehensive insurance plans for two-wheelers. They are offered to two-wheelers that are less than five years old and can only be used a limited number of times within a year. The cover mitigates the depreciation rate of the two-wheeler at the time of claim settlement ensuring that the insurance claim amount is significantly higher.

8

How to Renew the Two-Wheeler Insurance for My Honda Dio?

You can now renew your Honda Dio's insurance online within just a few minutes. Follow these steps to renew your Honda Dio's Two-Wheeler Insurance on InsuranceDekho:

Step 1: Go to our website, select the 'two-wheeler insurance' tab from the home page. The drop-down menu will appear, select the 'renewal' option from it.

Step 2: Enter your Honda Dio's registration number in the provided section. If you do not have this, you can also enter other information such as its make, model and year of registration. Next, you must enter the Honda Dio's fuel type and variant.

Step 3: Provide the details of your previous two-wheeler insurance including the expiry date, insurance provider and claim details if any. Also, enter the personal details asked for. Once you have entered all the information required for the renewal click on the 'Submit and Get Quotes' button.

Step 4: The quotes for insurance policies for your Honda Dio will be visible on the screen. Simply select the two-wheeler insurance policy that is best suited to your needs, Also select any add-on covers you would like to purchase at this point.

Step 5: Make the payment for your selected Honda Dio two-wheeler insurance policy and the insurance document will be sent to your registered email ID.

9

How to Calculate the IDV of My Honda Dio?

The IDV of your Honda Dio is calculated by deducting the depreciation rate of the two-wheeler from the invoice price. However, the simplest way to calculate it is to use the two-wheeler insurance premium calculator on the InsuranceDekho website.