Find The Top 10 Bikes Under Rs. 70,000 In India In 2021
Published On May 20, 2021 11:00 AM By InsuranceDekho
If you are planning to purchase a bike and you are looking for something that is economical, this article will help you by giving you a list of the bikes in India that are under Rs. 70,000 with all the latest features.
Purchasing a bike requires a lot of thinking and thorough research. Being the popular mode of transport in India, it's important to consider various aspects before purchasing a bike. The cost of the bike is one of the main aspects that you should consider while purchasing the bike. But, the bike should also cater to all your needs. Read this article to find the top 10 bikes that have great features and are affordable.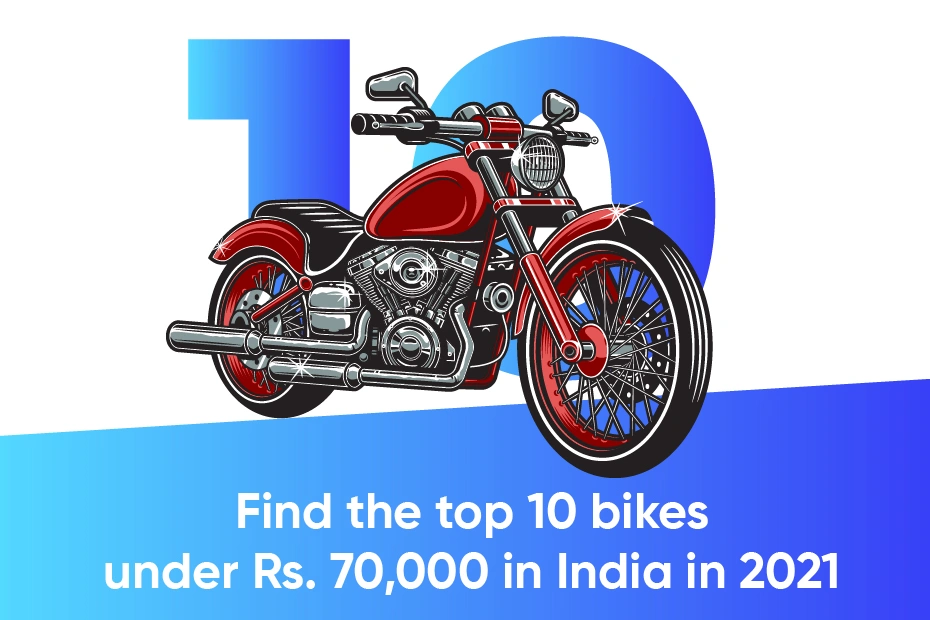 Top 10 Bikes Under Rs.70,000 In India In 2021
The following is the list of bikes that offer good performance and are below Rs.70,000-
The new TVS Sport is a reliable bike that has been updated with a 110cc engine and offers good performance and pick-up without hampering the fuel efficiency. The bike is provided with an air-cooled, 109.7cc single-cylinder engine giving it 8.18 bhp and a mileage of 75 kmpl. This feature makes it easy to ride in traffic.
Cost: Rs. 56,100
Must Check:- Tvs Sport Insurance
The Scooty Pep Plus is one of the most affordable two-wheelers based on petrol in India. It is equipped with a 87.7cc engine with front telescopic suspension and drum brakes. Scooty Pep Plus can have a speed of up to 65kmph and and a mileage of 60kmpl.
Cost: Rs. 54,374
Must Check:- Tvs Scooty Pep Plus Insurance
Hero Pleasure Plus is the two-wheeler of the year. With a 110cc engine, the bike offers more power and performance. It is a lightweight scooter which is easy to ride and well suited for short and female riders. It provides a mileage of 45kmpl and can be driven in the top speed of 80kmph.
Cost: Rs. 57,300
Must Check:- Hero Pleasure Plus Insurance
The Scooty Zest 110 is a commuter-friendly two-wheeler that is known for its power and better performance. It has a spacious leg space and telescopic forks at the front along with shock absorbers at the rear. It is equipped with a 109.7cc engine which provides a mileage of 60kmpl.
Cost: Rs. 61,345
Must Check:- Tvs Scooty Zest 110 Insurance
ELectric bikes are in vogue in contemporary times. It is equipped with a BLDC motor and 72-Volt battery setup which can run the scooter for 80kms on a single charge. The battery charges in about 4 to 5 hours making Photon a practical scooter made for the Indian roads.
Cost: Rs. 61,868
Must Check:- Tvs Electric Photon Insurance
If you are looking for a sporty yet economical scooter, Honda Dio is your best choice. It is equipped with a 110cc engine derived from the Activa platform. The design of the scooter is made keeping the youngsters as the target audience. Honda Dio grants a mileage of 45kmpl and a maximum speed of 85kmph.
Cost: Rs. 62,229
Must Check:- Honda Dio Insurance
Jupiter is a popular scooter in the commuter segment with a high number of sales. It offers enhanced comfort, brilliant fuel-efficiency and is practically designed for daily use. The Jupiter's excellent 109.7cc engine gives a mileage of 50kmpl.
Cost: Rs. 63,497
Must Check:- Tvs Jupiter Insurance
TVS Star City Plus is known for its reliable engine, high fuel efficiency along with its excellent ride. Being one of the oldest bike models of TVS, it has gone through multiple upgrades. The recent one is with its engine which has been upgraded to 110cc that offers a mileage of 71kmpl.
Cost: Rs. 65,865
Must Check:- Tvs Star City Plus Insurance
The Honda Activa 6G is known for its comfortable ride and reliable auto parts. It is a robust scooter that provides a comfortable ride on any road making it compatible for use in India. Its BS6 compliant 109.51cc engine provides a mileage of 45kmpl.
Cost: Rs. 66,799
Must Check:- Honda Activa 6G Insurance
Hero Destini 125 happens to be the only scooter with a 125cc engine in this price range. It is made to offer great comfort and practicality to the target audience. It has a great sales graph of over 20,000 units monthly. With a 125cc engine, Hero Destini provides a mileage of 42kmpl.
Must Check:- Hero Destini 125 Insurance
Also Read:- Why is bike insurance mandatory in India?
Cost: Rs. 66,960
Disclaimer: This article is issued in the general public interest and meant for general information purposes only. Readers are advised not to rely on the contents of the article as conclusive in nature and should research further or consult an expert in this regard.