Top 5 Fastest Two Wheelers To Purchase In India
Published On Aug 13, 2021 10:00 AM By InsuranceDekho
This article will provide you with the list of the top 5 two wheelers that are known for their high speed.
Table of Contents
Bikes have long been a prominent form of transportation in India. They are an excellent form of transportation for avoiding traffic. When choosing a bike, it is critical to conduct an extensive study about the bike models, engine capacity, and mileage. It's critical to select a bike that meets your requirements. If you're searching for a bike that gets the greatest mileage, this article provides a list of 5 bikes that get the best speed to help you narrow down your options.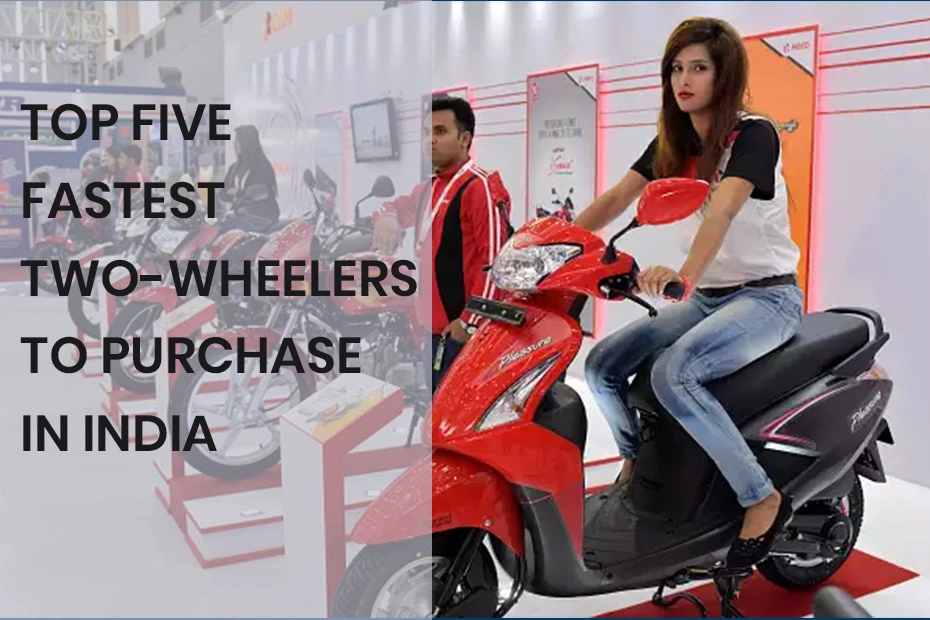 Top 5 Two Wheelers That Are Known For Speed
The following are the top 5 two-wheelers that are known to give great performance and high speed in India -
The WSBK motorcycle levelling technique was used to build this beast by the Japanese motorcycle powerhouse. With a fast shifter, launch control, sport-traction control system, and improved aerodynamics, it boasts new global mechanics. The 998 cc liquid-cooled four-cylinder engine produces 197 horsepower torque for the rider. This beast roars and reaches a top speed of 100 kilometres per hour in under three seconds.
Must Check:- Kawasaki Ninja H2 Insurance
Engine CC - 998 cc
Top Speed: 300+ kmph
Price: Rs, 33,30,110
The BMW S 100 RR is a bike that many riders across the world choose because of its menacing appearance. When an inline 4-cylinder motor and a 6-speed gearbox are combined, the result is a staggering torque of 193 bhp and 112 Nm, with the greatest power at 13500 rpm. The BMW S 1000 RR reaches a top speed of 303 km/h in under 20 seconds.
Must Check:- BMW S 1000 RR Insurance
Engine: 999 cc
Top Speed: 303 kmph
Price: 17,90,000 onwards
This bike is the result of Italian bike designers' perfect design. The new V4 engine taken from a MotoGP bike is what distinguishes this bike. Panigale's innovative Desmosedici Stradale 90-degree V4 engine produces 210 horsepower and 124 Nm of torque. Furthermore, the front is handled by an adjustable Showa suspension system, while the rear is handled by a Sach unit.
Must Check:- Ducati Panigale V4 Insurance
Engine: 1103 cc
Top Speed: 300+kmph
Price: 21,75,000
You may also like to read:- How To Get A Duplicate Copy of New India Bike Insurance Documents?
This bike has already gained popularity in India because of the blockbuster Bollywood film 'Dhoom.' With fast reflexes for three riding modes for varied circumstances, this vicious bike lives up to her name. When this beast hits the road, the engine erupts, producing 197 horsepower and 155 Nm of torque.
Must Check:- Suzuki Hayabusa Insurance
Engine: 1340 cc
Top Speed: 312 kmph
Price: 13, 68,970
This limited edition superbike is equipped with a hlin RXF 34 fork, which was designed specifically for low-weight, high-performance bikes. On acceleration, the liquid-cooled V4 engine produces 198 horsepower and 11 Nm torque.
Must Check:- Aprilia RSV4 RF Insurance
Engine: 999cc
Top Speed: 300 kmph
Price: 22,80,861
Importance of Bike Insurance For Top Speed Bikes
While owning high-performance bikes may be thrilling, it is highly prone to be involved in risks like road accidents and collisions. Although your bike may have the latest technology and features to prevent such incidents, accidents are truly unforeseeable and they result in heavy and expensive financial loss to repair the damages. Especially since the bikes listed above are expensive, repairing them will also be expensive. Insuring your bike is not just a necessity, it is also obligated by the Indian Government by the Indian Motor Vehicle Law. Having bike insurance will insure you from the expensive repair costs in case your bike is involved in any misfortune event thus saving you a lot of money.
Also Read:- How To Get the Details of Bike Insurance By Registration Number?
Take Away
Owning an expensive high-performance bike maybe a total adventure. However, it is important to insure your bike and follow the traffic rules while riding it. Don't forget to take your bike on a test ride before finalizing it and ride safely.
Disclaimer: This article is issued in the general public interest and meant for general information purposes only. Readers are advised not to rely on the contents of the article as conclusive in nature and should research further or consult an expert in this regard.