How is Two-Wheeler Insurance Premium Calculated?
Published On May 26, 2021 10:00 AM By InsuranceDekho
Read along to know how the two-wheeler insurance premium is calculated.
Table of Contents
Are you looking forward to buying two-wheeler insurance or planning to renew it? Have you considered calculating the insurance premium in the first place? If you are new to two-wheeler insurance, know that it is important for you to have an understanding of how the two-wheeler insurance is calculated. Though using a two-wheeler insurance calculator is highly recommended so as to make the calculation accurate, easy and quick, it is advised to go through the factors behind the two-wheeler insurance premium calculation.
First off, learn that in India, two-wheeler insurance policies are of two types - third-party insurance and comprehensive bike insurance. While third-party insurance is a mandatory requirement for all two-wheeler owners and covers only third-party liabilities, comprehensive two-wheeler insurance offers third-party liability insurance and own-damage cover to provide complete protection. Having said that, let us shed light on the premium calculation for both policy types.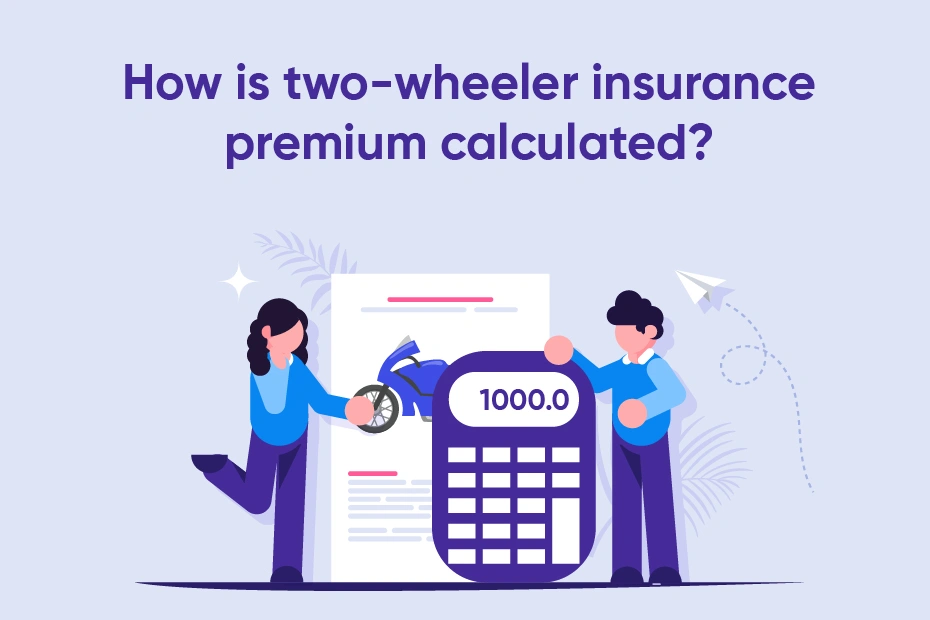 How Is Third-party Two-Wheeler Insurance Premium Calculated?
The aspects considered for calculating third-party two-wheeler insurance include:
Cubic Capacity: Cubic Capacity or CC plays a significant role in deciding the premium as two-wheelers with higher CC run faster and are at high risk. Note that in third-party two-wheeler insurance, the premium is decided by the IRDAI as per the CC ranges.
Third-party Liability Cover: It provides coverage and loss related to third-party liability only. The premium for third-party insurance for two-wheelers depends on this cover and is regulated by the IRDAI.
Personal Accident Cover: Two-wheeler personal accident cover is a must for the two-wheeler owner-driver. Also, it is one of the key aspects considered while calculating a two-wheeler insurance premium in the third-party insurance policy.
You may also like to read:- Why Is It A Must To Use A Bike Insurance Premium Calculator?
How Is Comprehensive Two-Wheeler Insurance Premium Calculated?
The aspects considered for calculating comprehensive two-wheeler insurance include:
Model & Make: The model and make of the two-wheelers are considered as two-wheelers that are expensive will have a higher premium.
Manufacture Year: Old bikes have lower Insured Declared Value. In case you are buying a new bike that has recently been launched, it will have a higher IDV and thus, a high premium value.
Engine Capacity: The engine capacity of a two-wheeler is considered for calculating the premium as the higher engine capacity means a higher premium.
Owner Details: Age, gender, and riding experience are some of the key details of the owner that impact the insurance premium calculation. Note that the premium for an experienced rider might be lower as compared to a new rider.
Voluntary Deductible: If you choose to go with a voluntary deductible, know that a higher deductible will reduce the insurance premium, but you will have to pay more for the repairs if your two-wheeler gets damaged.
No Claim Bonus (NCB): If you are renewing your two-wheeler comprehensive policy and have not filed any claim in the previous year, you will be eligible to get NCB, which will also be taken into account for premium calculation.
Add-ons Opted For: The add-ons you take can impact the two-wheeler insurance premium.
Safety Equipment Added: Two-wheeler insurance companies consider safety features adopted by the owner to keep their bike safe. If you have installed the Automotive Research Association of India (ARAI) authorised safety equipment, know that it can bring down the premium.
Along with the factors mentioned above, geographic location, duration of the two-wheeler comprehensive insurance policy, and membership of rider association are a few elements that may have an impact on your two-wheeler comprehensive insurance premium.
Also Read:- IDV Calculation: How IDV is Calculated in Two Wheeler Insurance?
Final Words
If you are looking for a new insurance policy for your two-wheeler, make sure you take into account the desired elements without fail. If you are planning to compare multiple policies, make sure you use the two-wheeler insurance premium calculator to know the exact amount and witness how changing different aspects, changes the premium too.
Make sure you choose an insurance policy that offers maximum value for your money!
Disclaimer: This article is issued in the general public interest and meant for general information purposes only. Readers are advised not to rely on the contents of the article as conclusive in nature and should research further or consult an expert in this regard.