Claim, renew, manage & more
Login
Thailand Travel Insurance
Offering endless opportunities to all, Thailand is a country that welcomes tourists from all over the world. While some visit the country for simply sightseeing, there are many others who travel to Thailand for seeking jobs or pursuing higher education. So, if you are planning to go to Thailand for any of these reasons, make sure to buy a travel insurance plan in advance as this is an absolute must. With a travel insurance plan for Thailand, you can stay assured that your trip is not ruined due to any unforeseen situation.

Buy Best Travel Insurance Plans for your Overseas Journey from Just ₹552 Onwards*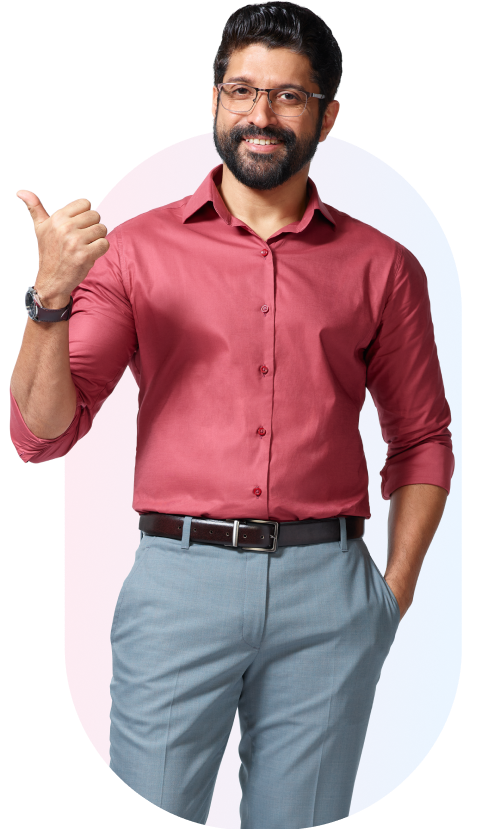 Loss of passport

Emergency Medical cover

Trip delay cover

Loss of baggage cover
*Standard Terms and Conditions Apply.
Key Benefits Of Thailand Travel Insurance
Travel insurance is like a safety net that protects you against all the uncertainties that may arise on your trip. From offering financial protection to safeguarding your important documents, travel insurance is a must when you are travelling to Thailand. So, here are some of the benefits of Thailand Travel Insurance:
Journey cover: In case your passport is lost or stolen, your flight is cancelled or delayed or your hotel reservations are cancelled, then travel insurance will provide compensation for all.

Baggage Cover: If your checked-in baggage is lost or delayed, then travel insurance will provide complete compensation for it. Travel insurance will compensate for the total cost of the lost items.

Medical cover: With a travel insurance plan, you can also get protection if you fall ill or get injured due to an accident. All the medical expenses such as hospitalisation costs, surgery costs, and others are covered.
Inclusions & Exclusions Of Thailand Travel Insurance
There are certain inclusions and exclusions of Thailand Travel Insurance as mentioned below:
Inclusions:
Cover for delayed or cancelled flights

All the expenses related to trip curtailment are covered

Emergency cash is also offered

If a hotel booking needs to be extended, then the travel insurance will offer compensation for that
Exclusions:
Any pre-existing disease whether it is informed or not is excluded

If you are travelling against the advice of a doctor and fall ill, then it will be not covered

Any injury due to suicide attempts or consumption of alcohol is excluded
Tourist Places To Visit In Thailand
Thailand is out of the best places to visit and thus the tourist footfall here remains high. A list of some of the best tourist places in Thailand is as follows:




Phuket: The capital city of Thailand, Phuket is out of the most-visited places in Thailand. It is also recognised as the biggest island in Thailand. In Phuket, you can marvel at the beauty of the pristine beaches which include Patong Beach, Kata Beach, and so many more.
The Grand Palace: The Grand Palace located in Bangkok is surely one of the places that you must not miss visiting. The temple of Emerald Buddha here is worth seeing and apart from that, you can also witness the amazing craftsmanship with which the Grand Palace is built.
Ayutthaya: Another place to explore in Thailand is Ayutthaya where you can witness a number of stunning architectures. These architectures are century-old and due to their immense significance, it is even protected as a UNESCO World Heritage Site. Here you can find a number of Buddhist monasteries, and other ancient structures that will surely catch your attention.
Mu Ko Chang National Park: The Mu Ko Chang National Park is located in the Trat Province, on the eastern side of Thailand. The Mu Ko Chang National Park is an amazing place to explore the rich flora and fauna of Thailand and spend time in the lap of mother nature.
Khao Lak:
Located in the Phang Nga Province of Thailand, Khao Lak is a place where you can easily escape from the hustle and bustle of city life. This is best known for offering the experience of scuba diving to all the adventure enthusiasts out there. So, if you are looking for performing water activities, you can visit the Khao Lak.
Essentials For Indian Citizens Travelling To Thailand
While it may be super exciting when you are travelling to Thailand from India, you may want to make sure that your trip is completely well-planned. In addition to booking flight tickets to Thailand, there is another thing that is certainly very important and that is applying for Thailand Visa. Based on the purpose of travel, a Thailand visa can be of different types such as the following:
Tourist Visa

Non-immigrant B Visa

Non-immigrant Ed-Visa

Non-immigrant O-Visa

Permanent Resident Visa



Indians can apply for a Thailand visa on the website of the Thailand Embassy and apply for the visa on the e-visa Thailand portal.



Requirements For Thailand Visa
In order to apply for a Thai Visa, you need to keep the following essential documents with you:
A duly completed Thai visa application form

A copy of the passport

Coloured passport-size photograph

Income proof to validate that you will be able to bear the expenses in Thailand

Employment letter or university enrollment certificate if applying for work or student visa

Flight booking or hotel reservation details
Thailand Travel Safety And Tips
There are certain rules and regulations that you need to follow when you are in Thailand. Mentioned below are some of the safety tips:
The drinking and smoking laws are very strict here. So, make sure that you never indulge in such activities in any public place. If you violate these rules, you can be imprisoned or need to pay a hefty fine.

Do not interfere with the local customs and traditions.

Maintain a social distance to avoid the spread of any disease.

Do not indulge in fighting with the locals and try to report the police in case of any emergency.
Airports In Thailand
To make sure that travellers can easily plan a trip to Thailand, it is well-connected to other parts through flights. It is home to a number of international airports so that foreigners can easily plan a trip to Thailand. Some of the airports in Thailand are as follows:
Phuket International Airport

Suvarnabhumi International Airport

Don Mueang International Airport

Hat Yai International Airport

Udon Thani International Airport
Best Time To Visit Thailand
The ideal time to visit Thailand is between November-February. During this time, the weather remains cool and pleasant so that tourists like you can easily explore the beauty of Thailand. You must avoid going to Thailand during April-June as this time the place remains comparatively hot.
Things To Do In Thailand
Planning a trip to Thailand and wondering what all activities to do? Here is a list that tells all about the best things to do in Thailand:
Explore the Floating Market: Floating markets in Thailand are one thing that grabs the attention of tourists from all over the world. The fun of shopping while enjoying a boat ride is one thing that you can certainly not afford to miss out on while in Thailand.

Enjoy the beauty of the pristine beaches: Blessed with a number of sun-kissed beaches, tourists often make visits to Thailand to discover these beaches. Some of the famous beaches in Thailand include Ko Tao, Ko Phi Phi, Ko Kood, Ko Phangan, and many more. You can also participate in a number of water activities at these beaches in Thailand.

Relish the local delicacies: Thailand is famous for its Thai dishes. So, whenever you are in Thailand, some of the local delicacies to relish include lab, pad thai, khao soi, som tam, and the list goes on.

Shop for unique artefacts: Do not head back from Thailand without indulging in a shopping spree. Some of the famous markets in Thailand include rod fai market, cicada market, huan hin night market, and more.
Frequently Asked Questions (FAQ)
Can I buy travel insurance for Thailand online?


Yes, you can easily purchase travel insurance for Thailand online. You can also contact InsuranceDekho for more details on travel insurance plans.




Can I get coverage for pre-existing diseases with my Thailand Travel Insurance Plan?


No, there is no coverage for pre-existing diseases under the Thailand travel insurance plan.




What are some of the factors to consider while buying a Thailand travel insurance plan?


Some of the factors to consider while buying a Thailand travel insurance plan are budget, needs, places to cover, etc.

Can I apply for a Thailand student visa?


Yes, you can easily apply for a Thailand student visa if you are going to Thailand for your studies.




What is the best time to go to Thailand?


The best time to go to Thailand is from November to February.



Insurance Dekho Contact Details
Reach us for help anytime
Insurance Dekho

755 1196 989

Mon to Sun 10:00 AM to 7:00 PM