Claim, renew, manage & more
Login
Dubai Visa
One of the most important tourist destinations in the world, Dubai has some of the most amazing tourist attractions such as Burj Khalifa, Palm Jumeirah, Dubai Frame, and the list continues. Apart from this Dubai is also a major business hub. Owing to all of these, every year people from different countries visit Dubai for their individual needs. So, in order to legally travel to Dubai, it is a must for all to have a valid visa. A Dubai visa is one that will help you and grant you permission to temporarily stay in Dubai. However, before you apply for a Dubai visa, there are certain things you need to be aware of. Read on to know all about the Dubai visa application process, types of Dubai visas, and all others.

Buy Best Travel Insurance Plans for your Overseas Journey from Just ₹552 Onwards*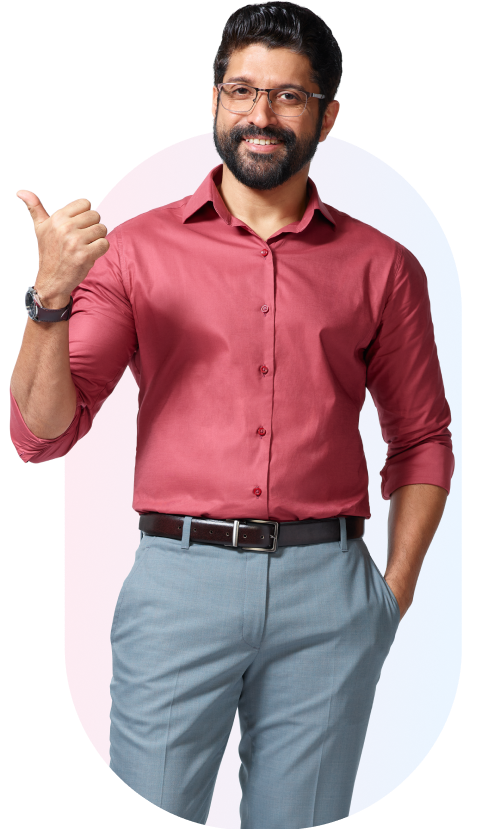 Loss of passport

Emergency Medical cover

Trip delay cover

Loss of baggage cover
*Standard Terms and Conditions Apply.
Features Of Dubai Visa
Some of the features of the Dubai Visa are
The Dubai Visa can be issued by both tourists and transit passengers.
It is mandatory to have travel insurance along with a Dubai Visa.
Different types of Dubai Visa are available and passengers can easily pick a desired one.
For Ind

ians, Dubai Visa can also be issued on arrival if they have a US Visa or Green Card.
Types Of Dubai Visa
Listed below are some of the types of Dubai visas:
Tourist Visa: This visa grants permission to tourists from all over to enter the territory of Dubai and explore its beauty. The Dubai Tourist Visa is available for both short and long-term and thus tourists depending on their stay can apply for a suitable visa.
Student Visa:

As the name suggests, this type of visa is issued to students who are planning to go to Dubai for their studies. This visa is issued by the UAE University where the non-UAE student is getting enrolled.
Visit Visa:

This type of visa is issued to those who are visiting Dubai to meet their family members and can be issued by UAE-based family members.
Service Visa:

This type of Dubai Visa is issued to those who are going to Dubai for carrying out commercial activities for a limited period of time.
Transit Visa:

The Transit Visa is issued by people who have a layover at the Dubai International Airport and have a connecting flight from thereon. It is mandatory for all to have a Transit Visa for enjoying a short layover at the Dubai Airport.
Work Visa:

This type of visa is meant for those who are going to Dubai in search of work and can be issued by individuals who are at least 18 years of age. It is issued by the Labour Ministry in Dubai.
Medical Permit:

The Medical Permit Visa is applicable for those foreigners who are visiting Dubai for seeking medical treatment.
Dubai Visa Application Process
The process of applying for a Dubai Visa is quite easy as it can be done both online and offline. In the section below find some easy steps to apply for Dubai Visa:
First, choose the type of Dubai Visa you wish to apply for.
Then, either visit the government website of the UAE or the official website of a UAE-based visa provider.
Then, fill out the application form with all the essential information.
Also, attach all the relevant documents.
Then, check the details entered by you and pay the Dubai Visa fees.
Finally, submit your application and take a printout of the same.
If your appli

cation is approved, then you will be easily granted a Dubai Visa.
Documents Required For Dubai Visa Application
Here are some of the documents that you need to have for the Dubai Visa Application:
Coloured passport-sized photograph
Duly-filled Dubai application form
A valid travel insurance policy
Flight or hotel booking receipt
Proof of re

sidency visa is required if the permanent address is different from the residential address
Dubai Visa Fees
The visa fees vary depending on the type of Dubai Visa you are applying for.

Tourist Visa:

The tourist visa fees for 30 days and 90 days are 1200 AED and 1700 AED respectively.

Visit Visa:

For the short term, the Dubai Visit Fee is 400 AED and for the long term it is, 790 AED.

Transit Visa:

The visa fee for a Transit Visa valid for 4 days is 170 AED and for 14 days, it is 350 AED.

Student Visa:

The Dubai Student Visa fee is 550 AED.

Medical Visa:

The Dubai Medical Visa fees vary from 550 to 1400 AED depending on the type of medical visa you apply for.

Work Permit:

Depending on the category of work, the Dubai Work Visa varies from 200 to 3000 AED. You can also contact th

e visa provider to know all the details pertaining to this.
Process To Check Dubai Visa
You have applied for a Dubai Visa and now wish to check its status. If that is the case, then you just need to visit the official website of the General Directorate of Residency and Foreigners Affairs-Dubai and enter your application number to track the status of your visa form. You can also get in touch with your UAE-based visa provider to enquire about the status of your Dubai Visa form.
Frequently Asked Questions (FAQ)
What are some of the main types of Dubai Visa?

Some of the main types of Dubai Visa are Student Visa, Transit Visa, Medical Visa, Work Visa, Tourist Visa, and a few more.

What are the visa fees for Dubai Work Visa?

Depending on the nature of work, the visa fees for Dubai Work Visa vary from 200 AED To 3000 AED.

Who can apply for a Dubai Student Visa?

Any foreign student who is getting enrolled in a Dubai-based university or educational institution is eligible to apply for a Dubai Student Visa.

Is travel insurance mandatory if I apply for a Dubai Visa?

Yes, travel insurance is mandatory for all those applying for Dubai visas.

How many days does it take for a Dubai visa to be processed?

It generally takes 3-4 working days for the Dubai visa application form to be processed.
Insurance Dekho Contact Details
Reach us for help anytime
Insurance Dekho

755 1196 989

Mon to Sun 10:00 AM to 7:00 PM