Claim, renew, manage & more
Login
Singapore Travel Insurance

A traveller's paradise and a place with plenty of career opportunities, Singapore attract visitors from around the globe. In addition, the country also offers quality education and is a prime location for pursuing higher education. But, before you plan a trip to Singapore, it is important to note that having a travel insurance plan is an absolute must. A travel insurance plan for Singapore takes care of all the financial and other losses that may occur if an unexpected situation happens during your trip to Singapore. Read on to find out more about travel insurance for Singapore.

Buy Best Travel Insurance Plans for your Overseas Journey from Just ₹552 Onwards*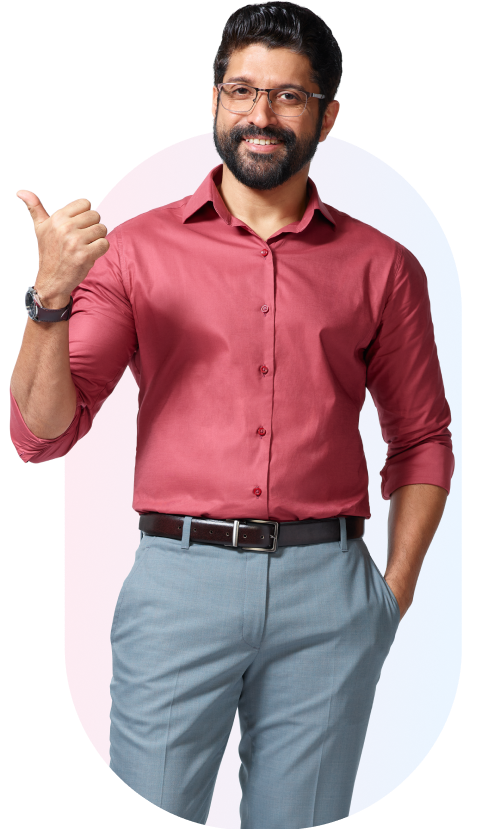 Loss of passport

Emergency Medical cover

Trip delay cover

Loss of baggage cover
*Standard Terms and Conditions Apply.
Key Benefits Of Singapore Travel Insurance
Travel insurance for Singapore has several benefits to offer such as the following:
Personal Liability Coverage: During your trip to Singapore, if you happen to injure any third party or their property, then a travel insurance plan can offer compensation for this.

Medical Expenses: If you get injured during a trip to Singapore and require medical treatment, then you need not worry as travel insurance will provide compensation for the same.

Flight-related delays: If your flight is delayed or cancelled, then with the help of travel insurance, you can stay protected against such situations.

Passport/Baggage Loss: If your checked-in baggage, passport, or any other essential document is lost or damaged during your trip, then stay assured as travel insurance will safeguard you against such a loss.

Covid-19 Cover: Travel insurance also provides protection if you are tested positive for Covid-19 during your trip to Singapore.
Inclusions & Exclusions Of Singapore Travel Insurance
Listed below are the key inclusions and exclusions of Singapore Travel Insurance:
Inclusions
Coverage for delayed and lost baggage

Cover for a misplaced or lost passport

Covid-19 cover

Coverage for medical expenses

Coverage for delayed or cancelled trips and flights

Emergency cash flow
Exclusions
There is no coverage for pre-existing conditions

If any accident occurs due to involvement in an illegal activity is also not covered

Injuries due to participation in risky and adventurous activities are not covered

If any injury occurs due to the influence of alcohol, then it is not covered.
Tourist Places To Visit In Singapore
Singapore is dotted with a number of mesmerising attractions, which tourists love visiting. So, here is a list of some of the best tourist places to visit in Singapore:
Gardens By The Bay: Offering breathtaking views of the waterfront, Gardens By The Bay in Singapore is one of those places that remains flocked with tourists throughout the year. The views of the garden look even more enchanting during the night when it gets decorated with vibrant lights.

Universal Studios: A visit to Singapore is simply incomplete without you visiting the famous Universal Studios. The Universal Studios in Singapore is lined with a number of thrilling rides so that adventure enthusiasts can experience the taste of fun and adventure. Be it, kids or adults, there is something for everyone at Universal Studios.

Singapore Zoo: Another must-visit place in Singapore is the Singapore Zoo which is truly a haven for all wildlife lovers. Tourists here love taking a Jungle Safari Ride and capturing the views of wildlife creatures from a very close distance.

Marina Bay: Marina Bay is one of those places in Singapore where tourists can witness some of the exotic hotels. At Marina Bay, you can simply stroll around the lakeside or even shop for unique artefacts at the luxurious mall in the region.

Sentosa Merlion Tower: The Sentosa Merlion Tower is the only statue in Singapore that tourists can easily climb onto. Perched at a height of 121 m, the Sentosa Merlion Tower offers great views of the skyline of Singapore. The Sentosa Merlion Tower has the head of a lion and the body of a fish which is truly a sight to witness.
Essentials For Indian Citizens Travelling To Singapore
Be it for exploring the beauty of Singapore or for pursuing education, many people visit Singapore for varied reasons. However, no matter what your reasons for travelling are, a Singapore visa is an absolute necessity. Based on the objective of travel, different types of Singapore visa is issued to individuals. So, listed below are some of the major types of Singapore visa that you must apply for as per your objective of travel. You can apply for any of these visas by visiting the Singapore Embassy or consulate or even an agent. It takes 2-3 weeks time for processing the visa application form, so it is advisable to apply for a Singapore visa in advance.
Family Visa

Individual Visa

Collective Gratis Visa
Requirements For Singapore Visa
Whenever you apply for a Singapore visa, you need to keep the following documents with you:
Valid passport (it should not be expired)

Coloured passport-size photograph

Duly-filled Singapore visa application form

Flight and hotel bookings confirmation copy

Proof of income to show that you will be able to sustain the expenses in Singapore

Employment letter if you are applying for Work Visa and Singapore University enrollment letter if you are applying for Student Visa
Singapore Travel Safety And Tips
There are certain rules and regulations that you need to adhere to when visiting Singapore. Listed below are Singapore travel safety tips:
First and foremost, it is very important for you to travel to Singapore with a valid visa.

Do not involve yourself in cases like drink and driving and fights with the locals, as the country has very strict fines against this.

Buy a health insurance policy before planning a trip to Singapore.

Do not travel to Singapore if your doctor has advised you not to travel on medical grounds.

Carry sufficient cash in the currency of Singapore i.e. Singapore dollar.
Airports In Singapore
For travelling to Singapore, it is important to know all about the different airports in Singapore. Listed below are the major airports in Singapore:
Singapore Changi Airport

Seletar Airport

Kallang Airport

Paya Lebar Airport
Best Time To Visit Singapore
Experiencing a tropical climate, Singapore can be visited throughout the year. However, the best time to visit Singapore remains from December to February during which the climate is pleasant and you can easily explore Singapore. You should avoid going to Singapore from April to June as this is the driest season of the year and remains comparatively hotter.
Things To Do In Singapore
Singapore has some of the best experiences to offer to its tourists. Here are some of the best things that you can do in Singapore:
Visit Mini India: You can experience the culture and traditions of India in Singapore. Yes, you have got us right. Singapore has its own mini version of India which has a number of Indian markets, religious sites, and others. So, if you want to witness the same, make a visit to Mini India in Singapore.

Explore Madame Tussauds Wax Museum: The Madame Tussauds Wax Museum in Singapore is a must-visit place. At the Madame Tussauds Wax Museum, you can find wax statues of a number of celebrities such as Lata Mangeshkar, Queen Elizabeth II, Lady Gaga and so many others. So, get a chance to click pictures with the wax images of famous personalities at the Madame Tussauds Wax Museum in Singapore.

Discover the beauty of ChinaTown: You can also make a visit to ChinaTown in Singapore which has a number of places that give you the experience of Chinese culture. You can relish Chinese food, explore Chinese temples, and do a lot of other things in ChinaTown.
Frequently Asked Questions (FAQ)
Where can I apply for a Singapore visa if I am travelling from India to Singapore?


You can apply for a Singapore visa at a Singapore Embassy or Consulate.




What are the benefits of buying Singapore travel insurance?

A Singapore travel insurance protects you against any unforeseen event that may occur during your trip to Singapore.

Can I get coverage against lost baggage with Singapore travel insurance?

Yes, with Singapore travel insurance, you can get coverage against lost or misplaced check-in baggage.

Where can I buy a travel insurance plan for Singapore?

A number of insurance companies now offer varied travel plans which can be easily purchased either online or offline. You must compare these plans before making a final decision and buying the best travel insurance plan that will cover everything you need.

What are some of the best places to visit in Singapore?

Some of the best places to visit in Singapore are Universal Studios, Gardens by the Bay, Singapore Zoo, Madame Tussauds Wax Museum, and more.
Insurance Dekho Contact Details
Reach us for help anytime
Insurance Dekho

755 1196 989

Mon to Sun 10:00 AM to 7:00 PM