Claim, renew, manage & more
Login
Canada Travel Insurance
Recognised as the second-largest nation in the world, Canada is often on the bucket list of avid travellers. From towering skyscrapers, scenic lakes to mesmerising waterfalls, there are an ample number of places to visit in Canada. However, for planning an itinerary to Canada, there are certain important documents that you need to keep and one such document is travel insurance. You can find a plethora of travel insurance plans and easily pick the one that best matches your budget. Travel insurance for Canada offers a bunch of benefits. To know all about travel insurance for Canada, read on.

Buy Best Travel Insurance Plans for your Overseas Journey from Just ₹552 Onwards*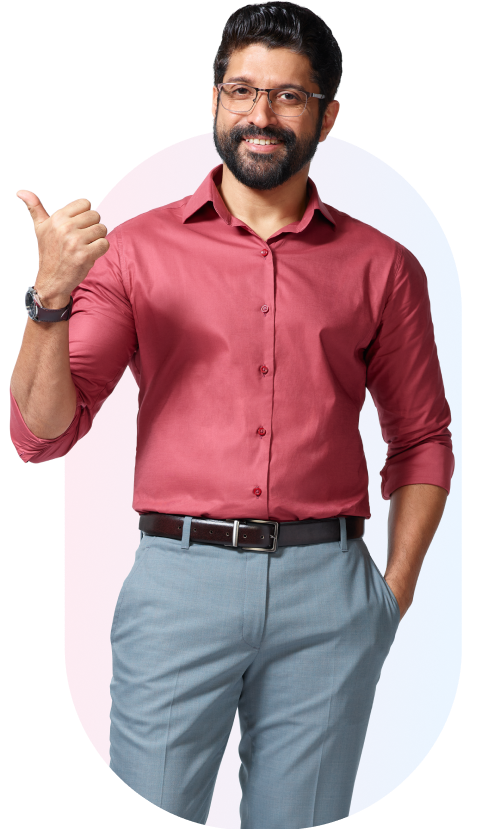 Loss of passport

Emergency Medical cover

Trip delay cover

Loss of baggage cover
*Standard Terms and Conditions Apply.
Key Benefits Of Canada Travel Insurance
Travel insurance for Canada acts as protection in case you face any unforeseen event during your trip to Canada. Some of the benefits of Canada Travel Insurance are as follows:
Baggage Coverage: In case your baggage is lost or delayed during your trip to Canada, then you can stay stress-free as Canada Travel Insurance provides coverage against the same.

Journey Cover: Any financial help or other kinds of assistance required during the trip to Canada is also covered.

Medical Assistance Cover: If you fall ill or face any other medical trouble during a Canada trip, then Canada Travel Insurance can provide protection against such situations.
Inclusions & Exclusions Of Canada Travel Insurance
Listed below are the inclusions and exclusions of Canada Travel Insurance:
Inclusions:
Cashless hospitalisations in case of a medical emergency

Coverage for a lost passport or misplaced passport

Covid-19 coverage

Offers emergency hospitals extension

Coverage for delayed or lost baggage is provided

Coverage in case your trip is cancelled or delayed due to any reason
Exclusions:
Does not offer coverage for pre-existing conditions

Does not offer coverage of medical treatment in case you are travelling against the advice of your doctor.
Tourist Places To Visit In Canada
Canada is flocked with a number of tourist attractions. Some of the best places to visit in Canada are listed below:
Niagara Falls: The view of the flowing water at Niagra Falls is a truly breathtaking sight and thus it is one of the best places to visit in Canada. You can click a bunch of scenic pictures against the backdrop of Niagara Falls.

Tofino: If you are a beach lover and are visiting Canada, then Tofino can be a perfect place to spend some quality time. It has a number of beaches and water lovers can enjoy it to the fullest here.

Banff National Park: A perfect place for all wildlife lovers, the Banff National Park is home to a variety of flora and fauna. Besides, the views of snow-capped mountains and glaciers at the Banff National Park are worth seeing.

Stanley Park: Another place to visit in Canada is Stanley Park which is surrounded by water bodies. You can also capture the views of fir and cedar trees at Stanley Park.

CN Tower: The CN Tower in Toronto is perched at a height of 553 metres. It was in fact once even recognised as the tallest freestanding structure in the world. You can capture the views of Canada's skyline from here.
Essentials For Indian Citizens Travelling To Canada
Every year, thousands of Indians go to Canada to pursue higher education, accomplish professional tasks or simply explore the beauty of the country. However, any Indian travelling to Canada must make sure to apply for Canadian Visa before planning any kind of trip to the country. Depending on the objective of travel, Indian citizens can apply for the following types of Canadian visas:
Visitor Visa

Transit Visa

Study Permit Visa

Work Permit Visa

Temporary Resident Visa



Apart from the Canadian visa, Indian citizens travelling to Canada must also buy a travel insurance policy.



Requirements For Canada Visa
Listed below are some of the documents required to apply for a Canadian visa:
Valid passport

Coloured passport-size photograph

Duly-filled visa application form

Proof of financial documents that state your capacity in bearing the expenses in Canada

Employment letter if you are applying for Work Visa

University enrollment letter if you are applying for Student Visa

Travel tickets
Canada Travel Safety And Tips
Canada is a great place to visit and the locals here open-heartedly welcome tourists from all over. However, there are safety tips that you need to follow while travelling to Canada such as the following:
Always follow the protocols as specified by the Canadian government for Indian citizens.

You must avoid planning a trip to Canada during winter as the temperature during this time becomes very low.

Keep your passport and other important documents safe.

Do not involve yourself in any fights with the locals.

Do not extend your stay beyond what is specified in your visa.
Airports In Canada
While planning a trip to Canada, you must also be aware of the airports in the country. Here is a list of some of the airports in Canada:
Montréal–Trudeau International Airport

Toronto Pearson International Airport

Vancouver International Airport

Calgary International Airport

Kelowna International Airport

Ottawa – MacDonald – Cartier International Airport

Edmonton International Airport

St. John's International Airport
Best Time To Visit Canada
Although Canada can be visited throughout the year, it is advisable to avoid going to Canada during the winter months as winters in Canada are extremely cold. So, ideally, you should plan a trip to Canada in September-October. During this time, the country also witnesses a huge tourist footfall and there is relief from the scorching heat of summer.



Things To Do In Canada
Be it, wildlife lovers or adventure seekers, Canada has different activities for all kinds of travellers. So, here are some of the best things to do in Canada:
Visit the Okanagan Valley: The Okanagan Valley in Canada is famous all over the world for its fruit orchards. Besides, the place also has some of the best views of nature's bounty that is worth watching. So, when you are in Canada, make sure to visit the Okanagan Valley.

Enjoy river rafting in Banff: Adventure enthusiasts can go river rafting in Canada's Banff. The thrill of rafting through the crystal clear waters is one of a kind experience that all adventure enthusiasts must experience.

Capture the views of whales at the Bay of Fundy: Another interesting thing to do in Canada is to capture the views of whales at the Bay of Fundy. The Bay of Fundy is often called one of the seven wonders of North America.
Frequently Asked Questions (FAQ)
What are the different types of Canadian visas that I can apply for?


The different types of Canadian visas that you can apply for are Transit Visas, Student Permit visas, Visitor visas, and a few more.




What are some of the important documents required for applying for a Canadian visa?


You can apply for a Canadian visa with some essential documents like a copy of your passport, coloured-size photograph, duly-filled visa application form, etc.




What are some of the best places to visit in Canada?


Some of the best places to visit in Canada are the Bay of Fundy, Okanagan Valley, Niagara Falls, CN Tower, Stanley Park, and a few more.




Why do I need travel insurance for travelling to Canada?


With travel insurance, you can stay protected against all the unforeseen events that may arise during your trip to Canada.




Can I get coverage against pre-existing conditions with Canada Travel Insurance?


No, your travel insurance for Canada does not offer coverage against pre-existing conditions.



Insurance Dekho Contact Details
Reach us for help anytime
Insurance Dekho

755 1196 989

Mon to Sun 10:00 AM to 7:00 PM