Claim, renew, manage & more
Login
Term Insurance Riders
Term Insurance rider is the extra cover a policyholder can opt for with their base term insurance policy to extend their coverage benefits. A policyholder can buy a term insurance rider by paying an additional premium amount.

Get Term Plan Coverage of 1 Crore Starting From Just ₹16/Day*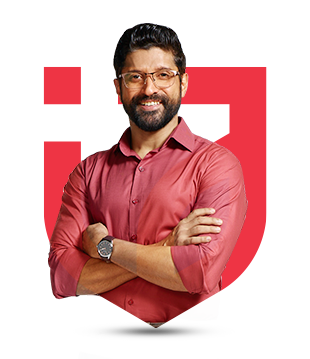 Tax Benefit

Up to 1,50,000**

Claim Support

Everyday 10AM-7PM

45 Lacs+

Happy Customers
*Standard Terms and Conditions Apply.
**Tax benefits are subject to changes in Income Tax Act.
Term Insurance Premium Calculator
Date of Birth
Do you smoke or chew tobacco?
Choose required coverage to secure your family's future
Disclaimer :

1. Premium has been calculated for coverage till 60 years

2. Eligibility depends on income, occupation and educational qualification
Different insurance companies offer different term insurance riders under their term insurance plans. It may not be compulsory to buy term insurance riders, but it is highly recommended to policyholders to add a rider to their base policy to be prepared for the uncertainties of life.
Human Life Value/Coverage Calculator
Types of Term Insurance Riders
Most term insurance plans come with riders, which differ in terms of cost as well as terms and conditions. To understand types of term insurance riders in detail, read below:
1. Accidental Death Benefit Rider: With an accidental death benefit rider, one can avail additional sum assured in case the insured dies in the misfortunate event of an accident. The additional sum assured is calculated on the basis of the original sum assured and may differ from one company to another. The premium remains fixed for this rider, for the entire policy term. However, some plans may put a cap on the maximum sum assured that can be availed.
2. Accelerated Death Benefit Rider: The family of a person suffering from a terminal illness like cancer, asthma, kidney failure, lung damage, etc. ends up paying a huge amount for medical expenses incurred due to the treatment. But with accelerated death benefit riders, the family receives a part of the sum assured in advance, which can be of great help in difficult times.
3. Accidental Disability Benefit Rider: In the unfortunate event of an accident, if the insured suffers from partial or permanent disability, then they can be benefited from this rider. Most of the time, term insurance plans pay you for 5-10 years after the accident causing disability, if you are covered under accidental disability benefit rider. Often coupled with accidental death riders, this rider can be treated as a source of income.
4. Critical Illness Benefit Rider: With a critical illness benefit rider, the insured can receive a lump sum amount on diagnosis of listed critical illnesses as specified in the policy document. Generally, term insurance plans cover you for cancer, stroke, paralysis, kidney failure, heart attack, major organ transplant, amongst others. The policy can either be continued or terminated after diagnosis of a critical illness, as per the terms and conditions stated in the policy.
5. Waiver of Premium Rider: As the name suggests, it waves off the future premiums in case the policyholder is not able to pay future premiums due to disability or loss of income. It can be said that this way you can ensure your premium payments until the policy gets expired. In case the insured does not have a waiver of premium rider, and suffers from a disability or is unable to pay the required premium due to some other reason, then the policy will expire and no death benefit will be paid as the premiums were not paid.
6. Income Benefit Rider: This is another useful rider that can be purchased by paying an extra premium at the time of policy purchase. Income benefit rider can be treated as a source of income in the misfortunate event of the death of the policyholder. With this rider, the family of the policyholder can avail additional income every year along with the regular sum assured, for up to 5-10 years.
7. Child Support Benefit Rider: The child support benefit rider is one of the significant riders to have besides a base term insurance policy. The child support benefit rider pays an additional CSB sum assured upon the death of the parents (policyholder). The key purpose of the child support benefit rider is to ensure that the child's needs are taken care of after the demise of the parent. Moreover, that the child is able to celebrate different milestones in life without compromising on their life goals because of financial concerns.

Benefits of Term Insurance Riders
Riders offer greater cover under your term insurance plan. But there are other benefits of purchasing term insurance riders as well. Some of them are explained below:
1. Enhanced Sum Assured: Some term insurance riders also enhance the total coverage. For instance, if your base term insurance policy has a sum assured benefit of Rs. 1 Crore, and you get a critical illness benefit rider, then you can avail coverage for extra Rs. 25 Lakh as well.
2. Protection for Family: One of the most important benefits of term insurance riders is that they offer the most needed financial protection to the family of the insured in case of a misfortune event. The riders offer protection not only in case of death but also in case of permanent or partial disability, life-threatening illnesses like cancer, stroke, kidney failure, etc.
3. Affordable: Term insurance riders offer great benefits at affordable premiums. It is better to go for riders than buying separate covers, for instance, for accident and critical insurance as that would cost more. Also, the insured will have to manage more than one policy at a time. Also buying riders help you avail combined benefits with the same policy, which otherwise might require you to purchase different plans.
Why You Must Buy Term Insurance Riders?
Having a term insurance policy by your side may seem sufficient to you to take care of your family's needs after your unfortunate demise.
However, do not forget that your family may still encounter financial difficulties after you are no longer there due to various reasons. If you are the sole breadwinner of the family, you must consider buying term insurance riders so that no matter what the situations are, your loved ones do not end up compromising due to uncertainties of life.
Below mentioned are some of the prime reasons why you must consider buying a rider even if it would require you to pay an additional premium amount:
No Need for Multiple Policies: Term insurance plans may offer one with a high sum assured, but they do not provide cover for everything. If you feel that your base term insurance would not be sufficient for your loved ones, opting for a rider would be a better idea than buying a completely new insurance policy. It would even get easier for you to manage riders along with the term insurance plan as compared to managing multiple term insurance policies.


Saves Costs: Buying multiple term insurance policies for added benefits is never advised. A lot of people buy more than one term insurance policy to increase their policy benefits. However, what they do not realize is that with the extra policy comes extra cost. On the contrary, adding riders is more convenient as well as cost-effective as riders do not lay heavy on the pocket.


Added Support: The key purpose of the term insurance policy is to provide financial support to the loved ones after the demise of the life insured. Adding a rider may come across as an additional expense, but a rider acts as an additional support for the family at a time they need it the most. Sole earners of their families are highly advised to opt for riders so that they can leave behind a large corpus and keep their family away from any financial constraints.


Tax Benefits: Like term insurance policy premium is tax-deductible under Section 80C of the Income Tax Act, riders too come with their tax benefits.
Things to Note about Term Insurance Riders
Here are a few key things to note about term insurance riders before you go ahead and add one to your base term policy:
Riders are optional.
If added to the base policy, riders come into effect based on condition.
Riders are very useful when an unexpected event takes place with the life insured.
Sum assured of riders is less than the sum assured of the base term insurance policy.
The premium for riders is less than the premium of the base term insurance plan.
Most plans allow the addition of riders at the time of policy inception while others allow rider addition at policy anniversary.
The term of the rider cannot exceed the term of the base policy.
Riders help the life insured customize their policy as per their requirements.
Buying a term insurance rider is completely a matter of choice. If you want extended cover over your base term insurance policy with the same insurance company, purchasing a rider would be highly beneficial.
Before adding riders to your term insurance plan, it is recommended to go through the associated benefits, and all the inclusions and exclusions under them, in detail. Assess your requirement for these requirements and then make an informed decision after a complete analysis.
Types of Term Insurance Plans
Popularly Opted Term Insurance Sum Assured
FAQ About Term Insurance Riders
What Is a Term Insurance Rider?

Term insurance riders are additional coverage that policyholders can opt for with their term insurance policies to expand their features, benefits and coverage, based on their budget and requirements. To avail the riders, policyholders are required to pay an extra premium along with the standard premium of the plan.

What are the different types of term insurance riders?

There are various types of riders that you can opt for as per your requirement with your term insurance plan. These are accidental death benefit rider, accelerated death benefit rider, accidental disability benefit rider, critical illness benefit rider, waiver of premium rider, and income benefit rider.

What type of diseases are covered under critical illness rider?

By opting for a critical illness benefit rider with your term insurance plan, you can get a lump sum amount on getting diagnosed for specified critical illnesses under the policy such as cancer, paralysis, stroke, kidney failure, cardiac arrest, major organ transplant, etc.

Can I buy a rider cover with any term insurance plan?

Yes, you can purchase rider covers with any term insurance plan like endowment plan, unit-linked plan, money-back plan, and so on. You must choose the rider covers as per your needs and budget.

Who can purchase a term insurance rider cover?

Anyone who holds a term insurance plan and requires adequate coverage for certain needs can buy term insurance riders. Also, to ensure stronger financial protection for your family in your absence, you can opt for riders. However, you should opt for the right riders strictly as per your needs, otherwise, it may lead you to pay more and gain less.
Term Insurance Companies User Reviews
What users are saying
Insurance Dekho Contact Details
Reach us for help anytime
Insurance Dekho

755 1196 989

Mon to Sun 10:00 AM to 7:00 PM