How to Deal with Car Insurance Agents Effectively?
Published On Sep 08, 2023
How to Deal with Car Insurance Agents Effectively?
Navigating the world of car insurance can be overwhelming, and dealing with insurance agents might seem like a daunting task. However, with the right approach, you can make the process smoother and ensure you get the best coverage for your needs. In this blog, we'll explore some strategies on how to deal with car insurance agents effectively.
Table of Contents
Tips To Deal With Car Insurance Agents
Research Thoroughly:
Before even speaking to an insurance agent, doing your homework is essential. Understand the basics of car insurance, different types of coverage, and the legal requirements in your area. This knowledge will empower you during discussions and help you ask relevant questions.
Compare Multiple Quotes:
Don't settle for the first insurance quote you receive. Reach out to multiple insurance companies or use online comparison tools to gather quotes from different providers. This will give you a better understanding of the market rates and help you negotiate effectively.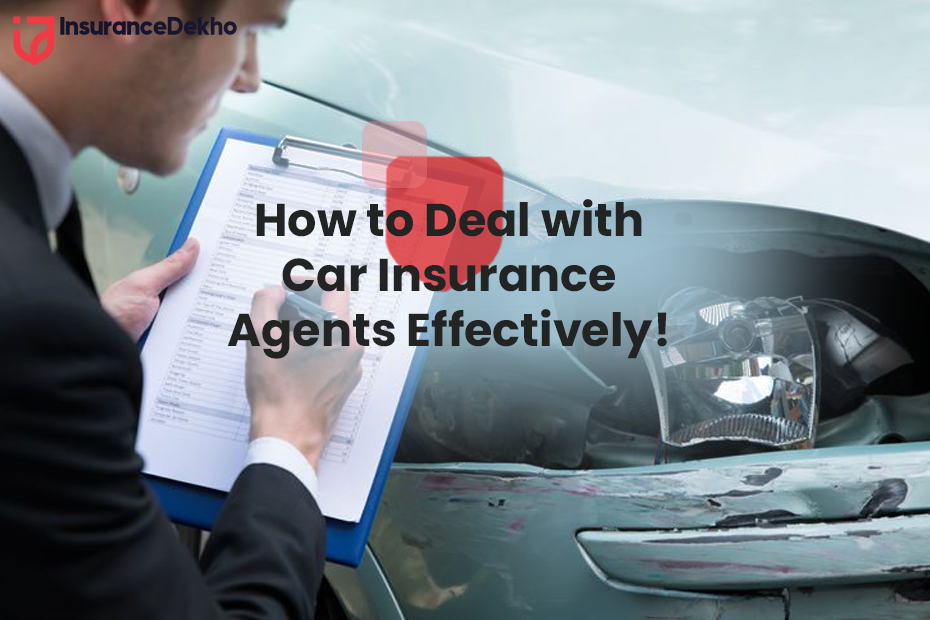 Understand Your Needs:
Evaluate your driving habits, the value of your car, and your financial situation. This will help you determine the type and amount of coverage you need. When you clearly understand your requirements, you can clearly communicate them to the insurance agent.
Be Prepared with Questions:
When speaking to insurance agents, don't be afraid to ask questions. Inquire about coverage options, deductibles, discounts, and any other concerns you might have. This not only demonstrates your active involvement but also helps you make an informed decision.
Don't Rush:
Insurance agents might try to pressure you into making a quick decision, but it's important to take your time. Rushing could lead to signing up for a policy that doesn't suit your needs. Politely inform the agent that you'd like to review the details and compare other options before committing.
Negotiate Wisely:
Insurance quotes aren't set in stone. Agents often have some flexibility to adjust rates or offer discounts. If you've received competitive quotes from other companies, use that as leverage to negotiate a better deal. Remember to be respectful but firm in your negotiations.
Clarify Terms and Conditions:
Insurance policies can be complex documents. Ask the agent to explain any terms or conditions you don't understand. It's crucial to know what you're agreeing to, especially when it comes to coverage limits, deductibles, and exclusions.
Inquire About Discounts:
Insurance companies offer various discounts based on factors like safe driving history, bundled policies, or even your profession. Make sure to ask about all available discounts to lower your premium potentially.
Get Everything in Writing:
Once you've decided on a policy, request all the details in writing. This includes the coverage, premium amount, deductible, and any endorsements. Having written documentation ensures there are no misunderstandings later.
Review Annually:
Your insurance needs can change over time, so reviewing your policy annually is essential. Set a reminder to contact your agent, discuss any changes in your circumstances, and adjust your coverage as necessary.
Utilise Online Resources:
In today's digital age, many insurance companies offer online tools and resources that can help you understand different coverage options. Take advantage of these resources to educate yourself before engaging with an insurance agent.
Keep a Record of Conversations:
Maintain a record of your interactions with insurance agents. Note down the date, time, and key points discussed during each conversation. This record can come in handy if there are any discrepancies or misunderstandings later on.
Be Cautious of High-Pressure Tactics:
Some insurance agents might use high-pressure sales tactics to push you into a decision. Remember that you have the right to take your time and make an informed choice. If an agent seems overly aggressive, it might be a red flag.
Consider Independent Agents:
Independent insurance agents work with multiple insurance companies and can offer a wider range of options. They can help you compare policies from different providers and find the best fit for your needs.
Don't Overlook Customer Reviews:
Customer reviews and feedback can provide insights into an insurance company's customer service and claims handling. Check online reviews to get a sense of how well an insurer treats its customers during the claims process.
Understand the Claims Process:
While dealing with an insurance agent primarily involves purchasing a policy, understanding the claims process is equally important. Ask about the procedure for filing claims, the expected timeline, and any documentation required.
Be Honest About Your Situation:
Honesty is crucial when discussing your driving history, previous claims, and other relevant information. Providing accurate details ensures that the policy you receive is tailored to your actual circumstances.
Explore Digital Communication:
If you're comfortable, consider communicating with insurance agents through digital channels such as email or chat. This allows you to have a written record of all communications, making it easier to refer back to details.
Conclusion
Dealing with car insurance agents doesn't have to be intimidating. By doing your research, asking the right questions, and negotiating effectively, you can ensure that you get the best coverage at a reasonable price. Remember, the goal is to have a policy that meets your needs and provides peace of mind on the road.
FAQs
How do I know if I'm getting the best insurance rate?
Answer: To ensure you're getting the best rate, compare quotes from multiple insurance providers. Online comparison tools or contacting insurance companies directly can help you gauge the range of rates available. Also, consider your coverage needs and inquire about discounts to lower your premium potentially.
Are there specific questions I should ask an insurance agent?
Answer: Yes, ask about coverage options, deductible amounts, claim processes, available discounts, and any additional fees or charges. Understanding these details will help you make an informed decision and avoid surprises in the future.
How can I negotiate with an insurance agent for a better rate?
Answer: Use competitive quotes from other companies as leverage during negotiations. Express your interest in their coverage, but mention that you've received more attractive offers elsewhere. This approach may prompt them to offer you a better deal to secure your business.
What if I don't understand certain terms in the policy?
Answer: If you encounter unfamiliar terms in the policy, don't hesitate to ask the insurance agent for clarification. They should be able to explain complex terms in simpler language. Request written documentation for these explanations to refer back to later if needed.
How often should I review my car insurance policy?
Answer: It's advisable to review your car insurance policy annually, especially around the time of renewal. However, review your policy if you experience major life changes such as buying a new car, moving to a new location, or changing your driving habits.
Can I switch insurance companies mid-policy?
Answer: Yes, you can switch insurance companies mid-policy. However, there might be certain considerations, such as cancellation fees or potential gaps in coverage. Before making the switch, ensure that the new policy is in effect and that you've properly cancelled the previous one to avoid any overlaps or lapses in coverage.