Claim, renew, manage & more
Login
A Comprehensive Guide To Dog Food and Nutrition
In today's time, with a growing number of dog parents, increasing concern about dogs' nutritional needs has also been witnessed. With so many different dog food available, it becomes difficult to choose the right and best dog food. However, fret not, as we are right here to tell you all about the right kind of food that your dog needs.

Plans for your furry friend starting from just ₹324/year*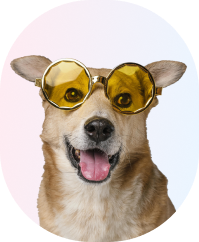 Surgery & Treatment

Hospital Expenses

Third party liability*

Terminal illness
*Standard Terms and Conditions Apply.
Find the right insurance for your Furry Friend
Owner Details
Pet Details
The Best Dog Food According To The Breed
The type of dog food you choose also depends on the breed of the dog. So, to learn more about your four-pawed babies' nutritional needs, scroll through the section below:

Small And Large Breeds
Different breeds of dogs have distinct nutritional requirements. Large breed dogs are more vulnerable to musculoskeletal injuries than smaller breeds. However, puppies frequently require large-breed dog food with different nutrient balances to foster their musculoskeletal health. Additionally, small breed dogs have their own nutritional needs and are more favourable to choke a big kibble, so it is advised to consider the preference of your four-pawed babies.

Puppy Food
The nutritional needs of four-pawed babies depend on their age and well-being. The requirements of puppies and adult canines are different from those of older dogs. Before shopping for the best puppy food for your furry friend, consult your veterinarian doctor to know more about their life stage of them.

Senior Dogs
Pet parents should be careful while purchasing the best dog food for their senior dogs as the nutritional requirements vary based on the age. So, to provide an adequate supply of nutrients to each and every breed of dog, it is crucial to choose the best dog food.

Tips to choose the Best Dog food for your Pet
Dog food is offered in a variety of forms, including wet, dry, organic, and food made from natural components. Besides this, you can choose low-carb and high-protein puppy food for your furry friends. So, here are some simple tips to help you choose the best dog food.
The Dog's Diet
As we grow older, we limit ourselves to having sugary sweets and high-calorie food. Just like this, the diet of pet dogs depends on their age and various other factors. Pet parents can buy high-calorie diet food for puppies. Whereas a low-calorie diet food would be ideal for bulky adult furry friends and a low-fat diet supplemented with glucosamine for older dogs. However, some four-pawed babies having medical conditions like allergies or diabetes should be given food based on their prescription.

Examine The Labels
While shopping for food for your four-pawed babies, always check the details such as product name, net weight of the product, details of the manufacturer, guaranteed analysis, ingredients, and a few more. The best dog food must include wheat or rice, to keep your dog's protein and fibre levels in check.
Wet Or Dry Dog Food
At the time of purchasing the best dog food, always consider the choice of your pet dog, as those furry friends have their own likes and dislikes. Depending on the preferences of your pet dog, you can choose to buy dry food, which is also popular as kibble, or wet puppy food. Due to the lack of moisture in dry food, it is wholesome for the dog's dental health. However, wet dog food is beneficial for dogs with diabetes or digestive issues.

A Closer Look At Homemade Dog Food
Why is it often said to pet parents not to share their food with their four-pawed babies? Still, wondering? This is because the meals we prepare for ourselves are too rich and fatty. Thus, it is advised for pet owners to prepare food that would be easily digested by their dogs.

Many dog parents also have a misconception that homemade dog food means supplementing protein. Ask yourself, 'Can I subsist on fat or carbohydrates alone?' Well, you already know the answer! The best dog food must overall include 40% protein-rich food like beef, turkey chicken, 50% vegetables such as carrots, spinach, corn, and 10% starch.
Myths and Misinformation About Dog Food
As pet parents are confused about so many words and phrases, we've put some light on some myths concerning dog food. Find the list of misconceptions in the below section.

Dry Food Will Dehydrate Your Pet
In reality, one of the best ways that pet parents can choose to ensure the well-being of their four-pawed babies is dry pet food. Drinking plenty of fresh water will keep them hydrated and will assist them in absorbing and digesting the nutrients available in food properly.

Avoid Carbohydrates For Pets
Carbohydrates are a good source of boosting energy in dogs. Carbohydrates are rich in fibre and are considered the best dog food. Besides improving the overall well-being, various products of carbohydrates will provide other vital nutrients such as fat, fibre, vitamins, and others.

By-products Are Unhealthy
By-products, which are the animal- and plant-based substances created during the preparation of human food, give your dog the essential nutrition they need. Despite the fact that some animal-based by-products don't look appetising to us, dogs can benefit from them because they are delicious, nutritious, and safe.
Conclusion
Though we love shopping, sometimes we get frustrated while choosing the best dog food for our four-pawed kids. It is advised to consider the factors like age, dietary needs, and preferences of your furry friends. All the nutrients such as proteins, vitamins, minerals, carbohydrates, and fats are necessary for the proper functioning of the body of your dogs.
Insurance Dekho Contact Details
Reach us for help anytime
Insurance Dekho

755 1196 989

Mon to Sun 10:00 AM to 7:00 PM